Sherlock Season 3 Air Date
ICYMI: More Sherlock Season 3 Pics — Plus the Complete Comic-Con Panel!
In case you've been camping out in front of an Apple store for iPhone mania, feast your eyes on some Baker Street behind-the-scenes snaps that you may have missed. BBC One released four new photos from the Sherlock set, leaving us hungry for more clues leading up to the season-three premiere in January 2014.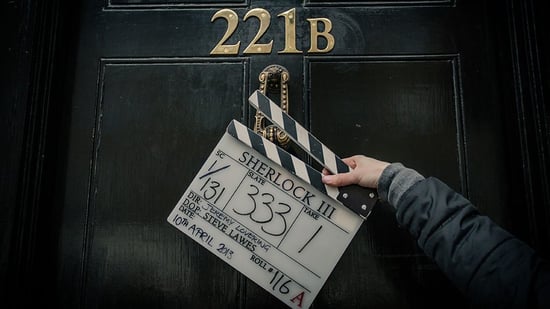 Sherlock himself, the very busy Benedict Cumberbatch, and Martin Freeman, who plays Dr. Watson, can be seen giggling over scripts, discussing lines with series writer (and costar) Mark Gatiss, and standing in the rain. The pictures don't offer much insight into what's in store for the next season, but hey — we won't turn down an opportunity to look at the boys of Baker Street.
We got a sneak preview of season three from a teaser released in early August. The first- and second-episode titles have been revealed to be "The Empty Hearse" and "The Sign of Three," respectively. During a season-two rerun marathon on BBC, letters appeared in the corner of the screen spelling out the title of the third episode, "His Last Vow."
After attending this year's Comic-Con panel featuring writer and Mycroft actor Mark Gatiss, creator Steven Moffat, and producer Sue Vertue, we can't wait for the upcoming season to air. PBS Masterpiece — bless their souls — made the entire panel available online in 720p HD, which you can watch for yourselves below.