Sherlock Comic-Con Panel 2013
Sherlock Comic-Con Panel: "They Wouldn't Stop There, Would They?!"
In the midst of filming season three, the masterminds behind Sherlock — cocreator Steven Moffat, cocreator and actor Mark Gatiss (aka Mycroft), and producer Sue Vertue — took the show to Comic-Con fans for the first time. But the panel had a few noticable people missing: stars Benedict Cumberbatch and Martin Freeman. Why, you ask? Because, as Steven jokingly riffed on the pair's famous TV and movie roles, respectively, "one is a high-functioning sociopath, and the other is a hobbit."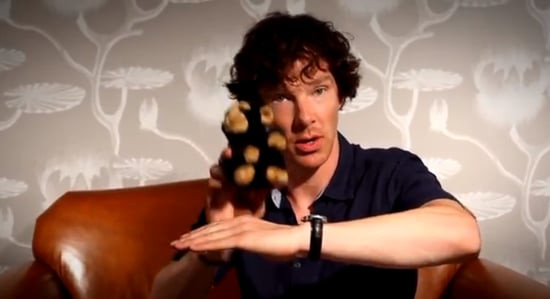 Video messages from the actors (screenshot above and clip below!) were shown in their absence — Martin in Bilbo Baggins attire and Benedict dropping some major spoilers about how Sherlock survives "The Reichenbach Fall" cliffhanger via stuffed monkeys (OK, there may have been some "technical difficulties" on that spoiler bit).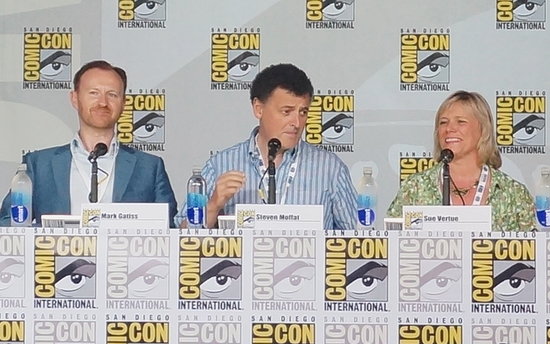 Reflecting on season two's epic ending, which the producers said had their phones going crazy after it aired, they also dropped hints on what's to come in season three. Here are the highlights from a Thursday panel that saw fans waiting in line since Wednesday.
We saw a hilarious — seriously, Benedict and Martin are both at their deadpan best! — top-secret clip from season three. Is it spoilers you want? Though we are sworn to secrecy, Sherlock and Watson have a bro moment surrounding the events of episode two, "The Sign of Three," the legendary Sir Arthur Conan Doyle tale that has the doctor meeting his future wife, Mary.
Don't expect the third season to begin with a quick, happy-go-lucky "hoorah!" for the return of the detective. Episode one, "The Empty Hearse," is a "long, complicated journey" on the return of Sherlock after he fakes his death. It explores how his death affected friends and family, including Dr. Watson and Mycroft.
The villian of seasons one and two, Moriarty, is really, most sincerely dead. Though we'll see actor Andrew Scott return in the first episode of season three in flashbacks of the final hospital rooftop scene, the days of Moriarty tormenting Sherlock are through. "He shot himself in the face," said Steven. "They [Sherlock and Moriarty] didn't go up on that roof and fake suicide at each other."
Will Sherlock be back for a fourth season? Find out after the jump.
Rejoice! Well, not too loudly. The show will return for a fourth season, Sue said. They just don't know when that fourth season will take place due to the pesky fact that the show's stars are also currently among Britain's most popular actors. So season four is a go, but how long will we get to watch Sherlock in this current incarnation? Let's all clap our hands together and make what Mark said come true: "There is something ideal in Martin and Benedict aged 55 sitting at a fireplace, being the age we associate with Holmes and Watson." Though, if the show were to continue that long, Steven said, fans may get in the habit of being scared each season was the last, yelling at the TV screen with each season finale, "They wouldn't stop there, would they?!"
When asked what fans would be surprised to learn of the show's lead actors, Steven said, "Benedict is the goofy one, and Martin is the sardonic one." After seeing the two's video message, it's very clear.
For those wondering if the muscles Benedict packed on for his role in Star Trek Into Darkness got in the way of his portrayal of the detective, set your mind at ease. Mark confirms, "He still looks very trim and gets more handsome with every year."
Well, yes, we'll agree with you there, sir! For one more Sherlock Comic-Con delight, watch Martin and Benedict's greeting below.