George Lucas Retirement Interview
4 George Lucas Revelations on Star Wars and Blockbusters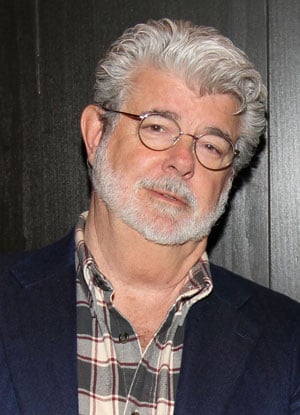 Remember your first dose of cinematic geekdom? Whatever your age, it's likely the story of warring galaxies battling an evil Empire with something called "the Force" served as initiation to a lifetime of science fiction fandom.
George Lucas, the master behind the epic saga of good vs. evil in Star Wars recently gave an interview to the New York Times, in which he discussed his feelings towards devout Star Wars fans, and more about the popular films that made him a legend.
Blockbuster Retirement — After decades of involvement with pricey studio films, George is committing his cinematic focus to the more art-house, experimental filmmaking he worked on in film school and the years before Star Wars changed his life.
Indiana Jones 5 — Despite putting the star character in a refrigerator during the most recent Indiana Jones film to the audience's horror, Indiana Jones will make one more appearance on the big screen. Before he washes his hands entirely of Hollywood razzle-dazzle, George is contractually obligated to the fifth installation of the Indiana Jones story.
Star Wars Revisited — Considered by many fans an affront on their beloved films, the director's revision of an early Star Wars: A New Hope scene where Han Solo shoots bounty hunter Greedo in self defense was a necessary change, because it didn't blend with his view of Han as the saga's lasting hero.
On Fanboy Outrage — Further edits to the original Star Wars

trilogy

during the 1997 special edition release of the films left fans casting George to be just as much of a villain as a science fiction character. He now counters their criticism: ". . . My movie, with my name on it, that says I did it, needs to be the way I want it."
As George himself admits he's drawn to stories with "corn" and heroes at the forefront, it will be interesting to see how his future films follow the same themes of his big-budget work. Will you miss his blockbuster films?