George Lucas Facts
10 Things You Didn't Know About George Lucas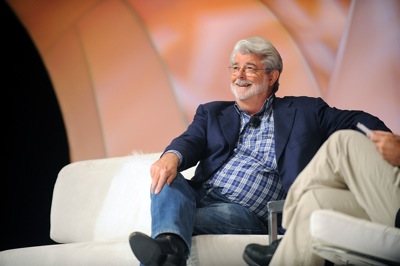 I've had a bit of Star Wars fever lately, with the news of an R2-D2 Droid 2 hitting the scene, and an all-new remastered Star Wars Blu-Ray collection coming next year, so I suppose now is as good a time as any to get to know the man behind the film legacy — George Lucas.
Here, 10 facts you may not have known about the father of one of the biggest geek movie franchises of all time!
He was rejected from joining the US Air Force because he had too many speeding tickets.
He was a camera operator in the Rolling Stones 1967 concert film Gimme Shelter.
Owes a large part of his wealth to the licensing deals he made before the first Star Wars film was released — he waived his up-front director's fee in exchange for full licensing rights to tee shirts, toys, and other Star Wars branded items.
To see the rest, just read more.


He has three adopted children.
Met Steven Spielberg when he was studying film at USC.
Was born in the small central valley town of Modesto, CA.
His Skywalker Ranch facility in Marin County is located off of Lucas Valley Road, a fact that is purely coincidental.
Came up with the story idea behind Indiana Jones while on vacation in Hawaii with Steven Spielberg.
Originally wanted to be a race car driver, but an accident just before his high school graduation changed his mind.
Modeled the character of Chewbacca after his own dog, an Alaskan Malamute. The same dog, named Indiana, was also the namesake for the Indiana Jones series.