We Still Here Shows Puerto Rico After Hurricane Maria
The Film We Still Here Shows Puerto Rico's Pain and Progress After Hurricane Maria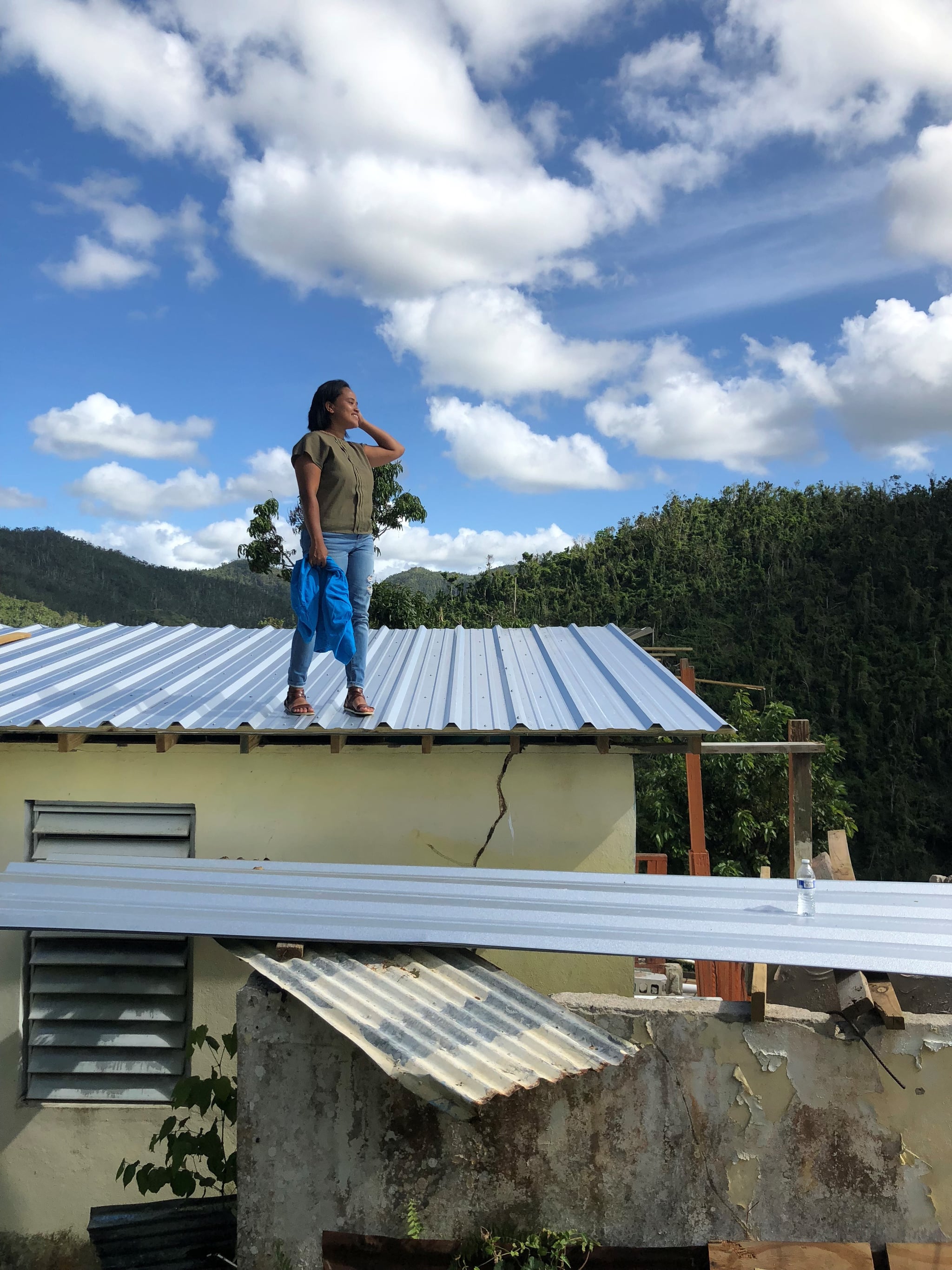 Four years ago this September, Hurricane Maria devastated the island of Puerto Rico — my family's homeland and a paradise I hold dear. I remember my mother's face going pale, as she listened to my aunt by phone from Guaynabo, a city in San Juan, talking of the destruction Maria left in its wake. It had been days with no word from family members on the island. We all lit candles and prayed for a call, a confirmation, that our loved ones were safe and that our roots were intact — that our ancestral connections had not floated away, stolen by the sea. We sent up anxiety-filled prayers as some calls took much too long to come in. Fortunately, most of my family members live in the city and suburbs of San Juan and got by with generators and stored reserves. But far too many suffered a total loss.
Even now, as we pass the four-year anniversary of the tragedies wrought by Maria, many on the island are still lacking bare necessities, begging for governmental assistance, making do with what they have been able to secure, wondering when things will get better….if things will get better. To help shed light on the ongoing challenges many continue to face in Puerto Rico, award-winning filmmaker Eli Jacobs-Fantauzzi captures the hardships, tragedies, and triumphs of life on the island post-Maria in his new documentary We Still Here, which premieres on Oct. 2 at the Urbanworld Film Festival in NYC. His camera follows the young leaders of Comerío, Puerto Rico, as they rebuild their community amid unfathomable loss. He takes extra care to spotlight the struggles and strengths of Boricuas, striving to rebuild, reimagine, restore, and simply remain in the aftermath of Maria's devastation. Without running water or electricity, without roofs or relief, with hunger and poverty, disappointment, and trauma — and in the absence of substantial federal support and resources — they work toward a just recovery.
I visited Puerto Rico this summer — for the first time since before the hurricane — looking to my island for the comfort it always gave me as a child. In the chaos of COVID and the many losses that I've survived, I looked to Borinquen for what it always offered me, peace. And while its heat warmed me, its waters rejuvenated me and its earth grounded me once more, it also filled me with somber sobriety. So much of what I used to know was there no more. Seaside kiosks where we once lined up for alcapurrias were no longer the highlight of piñones. The lust green vegetation and towering trees of the only tropical rainforest in the US National Forest System, El Yunque, were terribly damaged by the hurricane, too. The natural wonders of las Cavernas del Río Camuy, an underground network of caves, have only recently reopened.
Those losses are sad, even painful, but nothing compared to the tragedy of losing loved ones — the hurricane caused nearly 3000 fatalities — as the film movingly shows. Thousands of those who survived felt forced to leave the island: By 2017 almost 130,000 people had fled. That's 4% of the island's population. We're talking 1 in 25 people. Those who couldn't flee, the most vulnerable, suffered terribly. Babies welcomed into the world just days before the hurricane hit were left without cribs, formula, and shelter even. Sick people had no access to life-sustaining treatments. Seniors, as well as people with disabilities or incapacitating injuries, were left to sift and sort their lives amid the debris of collapsed walls and fallen gables, shattered glass, and cracked foundations.
And yet, the island has decidedly changed...awoken, one might say, with a new political consciousness that reminds us that although we are a colony of community-minded, resilient people, we are a colony nonetheless and need to rely on our own resources and strength to take charge of rebuilding our lives amid governmental neglect.
After Hurricane Maria, the resourceful people of Puerto Rico took it upon themselves to be their own heroes. They found empowerment in their disillusionment. They answered the call to rebuild their homes with hope, one cement block at a time. With their hands on the ground, music in the air, and love all around, they took hold of their own narrative so that it could not be spun by others, or worst, remain untold. That is the Puerto Rico I know and love. That is what We Still Here captures so beautifully. It reminds us that the spirit of Borinquen is resilient and indestructible, that we can overcome overwhelming and seemingly insurmountable odds together. Where there is cohesion and community, there is triumph over obstacles and challenges. In unity, we give voice to our better humanity and can conquer anything.