Getting Married as an Undocumented Immigrant
Why I Decided to Get Married When Donald Trump Won the Election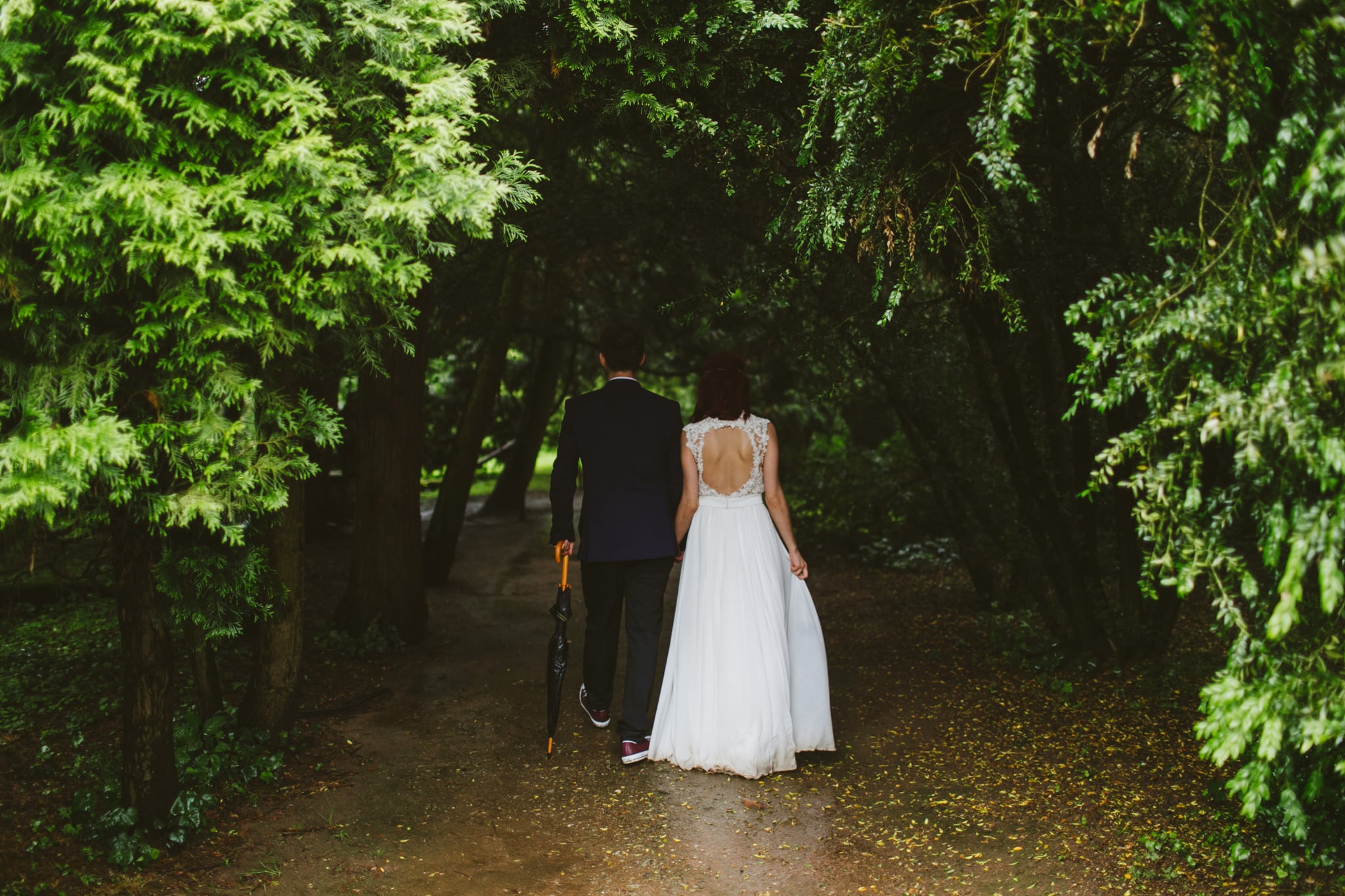 If you asked me how my life has changed since Donald Trump's win, I would pause, gather my thoughts, and finally say: "I'm OK." Those two words may sound underwhelming, but "OK" is how I've been trying to feel for months, because I'm undocumented and I've been afraid.
About three months after Trump was announced as president-elect, I got married to my boyfriend of several years, but on this night of Trump's election victory, we weren't engaged yet.
On the evening of Nov. 8, 2016, Andrew and I headed to a bar for some drinks. For some months, we had been experiencing feelings of disappointment. Neither candidate was a favorite of ours, so we couldn't say we would be celebrating Hillary Clinton's election. We simply wanted to be there to cheer for a win against the pervasive hate we thought Trump was promoting.
Andrew and I began to tread lightly around the idea of marriage mere moments after it became clear Trump was close to having enough votes to guarantee him the presidency. He began with, "Isabella, we have to." To which I responded, "No, we don't." I was shaking my head and still trying to understand what CNN was showing me on the TV screen of our local bar.
To me, Andrew is "the one." We had wanted to marry eventually, but we never imagined that Trump would win the presidency — and that because of my undocumented status we would be talking about marriage now, in an almost urgent way.
That same night Andrew dropped me off at home and kissed me goodnight. He held me and told me everything would be all right. I wanted to hold on to those words and believe him.
The next morning, I woke up to a feeling of numbness that made me wish I could sleep away the next few days. I texted Andrew, "It wasn't a dream." I laid in bed and negative thoughts began to surround me. "Great. Back to the pre-DACA days."
Knowing that we'd soon be living in a world where Trump was POTUS made me fear for the millions of people who are undocumented, like my parents, and those who, like me, are protected by the Deferred Action For Childhood Arrivals (DACA) — an executive action signed by President Barack Obama in 2012 that allows some undocumented children of immigrants to reside legally in the US and work with a permit that expires every two years.
Before DACA, I was a highly insecure young woman unsure of my future. For me, being undocumented meant that I'd continue to live with obstacles: driving without a license and being afraid of getting pulled over, trying to find a better job without papers; it was all stressful.
We would not allow Trump to divide us, separate us, nor dehumanize us. We would marry for love.
I worried about being good enough for everyone, from my family to my friends to the government. Before DACA, I figured that if I wasn't worthy of the opportunity to apply for residency and citizenship, then I wasn't a qualified human under the government's view. Going back to my pre-DACA days isn't what I considered an option. I couldn't deal with seeing myself like that again, like an individual who isn't worthy enough.
Some days after the general election, Andrew and I came to the agreement that we would get married. We knew marriage would allow me to apply for permanent residency. We talked extensively about the pressure to marry sooner than we would have liked, but we held on, and still do, to the truth: we would not allow Trump to divide us, separate us, nor dehumanize us. We would marry for love.
When fear is tugging at your sleeves and harassing your mind, you begin to question if you have a choice at all. My world was changing. Texts, calls, and conversations about wedding planning were something I wanted to fully embrace and run away from at the same time. At my core, I knew Andrew was "the one," but I was scared of the decisions I had to make.
I prayed extensively to God, asking for signs that this marriage was meant to be. When we had to find an apartment, we found a cheap one with a parking spot. When we had to plan the wedding in weeks, our families came together and took care of the costs. When I had to find a dress, I found a beautiful one at a discounted price. I firmly believed in these signs.
But days after we married, I found myself on the couch alone in our apartment. I stared at the wall and waves of emotions hit my body in all directions. Just there, in that moment, I was finally able to experience every single feeling I had managed to push back until I found a place in my life where I had nothing to plan. I laid there crying. I was thrilled to be married to Andrew, but I was also resentful. If Trump hadn't won, then I wouldn't have had to rush a wedding. I could have enjoyed it and taken my time.
Now, months after the wedding, I have come to accept that I have the power to choose how I view my life. Life happened for me, and a beautiful thing evolved from fear. I'm married to my amazing, honest, sweet, and loving partner. I wake up every day happy to see him next to me.
Trump will more than likely continue to incite fear. He may continue to push this xenophobic agenda of his, but one thing is certain: he will no longer have power over my thoughts. He will not change who I am, whom I love, and the fire that is in me to create change in this world. I will continue to love, persist, and resist.