Friendsgiving is just around the corner, and the perfect way to set the tone for an unforgettable feast is by creating an inviting tablescape for your squad. Autumn is the ideal season for playing with patterns and bringing the outdoors inside, so why not get creative by interweaving refined and rustic accents on your tabletop? From decorating with plaid placemats and garlands of leaves to whipping up a miniature apple pie recipe your friends will drool over, take a peek at our video to discover ultrasimple tips for planning a truly inspiring Friendsgiving fete. To shop the items shown in this video, click here or visit your local Pier 1 Imports store.
We've partnered with Pier 1 Imports to share simple decor tips for creating cozy, chic ambience at your 2017 Friendsgiving fete.
Individual Apple Pie Recipe
Jessie Damuck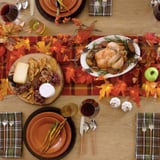 Ingredients
8 apples
1/4 teaspoon cinnamon
1/4 teaspoon nutmeg
1/4 teaspoon allspice
1/2 cup brown sugar
1/4 teaspoon vanilla
1/2 teaspoon freshly grated lemon zest
2 tablespoons butter
1/8 teaspoon salt
1 1/2 tablespoons freshly squeezed lemon juice
Pie crust dough, homemade or store bought
1 egg, beaten
Sanding sugar
Directions
1. Set oven to 375ºF.
2. Slice off tops of 6 apples, and use an ice cream scoop to scoop out apples, leaving
1/2 inch of flesh around edges and bottom.
3. Remove skin from 2 additional apples and finely chop. These will be for the filling.
4. Mix chopped apples with cinnamon, nutmeg, allspice, sugar, vanilla, lemon zest,
lemon juice, and butter to make filling.
5. Spread the apple filling mixture in a baking dish and cover with aluminum foil. Bake for approximately 25 minutes until the apples are fork tender. Remove foil and cool
completely.
6. Spoon pie filling into the scooped apples, all the way to the top.
7. Roll out pie dough and slice into 1/4-inch strips, layer in woven pattern on top of
apples, and trim excess.
8. Brush all exposed crust with egg wash, and sprinkle liberally with coarse sugar.
9. Place apples in a baking dish and fill with 1/4 inch of water. Bake for 35-45 minutes or
until crust is golden brown.
10. After removing the mini pies from the oven, allow them to cool in the pan for 10
minutes before removing them with an offset spatula and placing them on a sheet pan
to cool completely.
Information
Category

Desserts, Pies/Tarts

Cuisine

North American
Recipe creation by Jessie Damuck