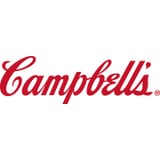 Alongside Campbell's®, we're giving you resources to create the most delicious meals, all day every day.
There's something to be said about a gorgeous savory flatbread ready for slicing at your next brunch. This rustic toast created by chef Megan Mitchell uses several different types of wild mushrooms paired with Campbell's® Condensed Cream of Mushroom Soup and a healthy handful of parmesan cheese to achieve peak deliciousness.
Wild Mushroom Toast
Megan Mitchell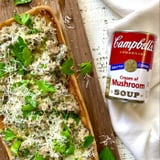 Ingredients
3 pounds mixed mushrooms (a mix of oyster, chanterelles, shiitake and/or cremini)
Extra virgin olive oil, for drizzling
Salt and pepper, to taste
3/4 cup dry white wine
2 garlic cloves, grated or minced
10.5-ounce can Campbell's® Condensed Cream of Mushroom Soup
1/2 cup freshly grated parmesan cheese, plus more for garnish
1/4 cup water
1 pain rustique or any rustic bread
1/4 cup finely minced chives, plus more for garnish
2 tbsp. flat leaf parsley leaves
Directions
Clean the mushrooms with a damp cloth or towel. Tear the oyster and chanterelles into 2-inch pieces, thinly slice the shiitakes and quarter the creminis.
Bring a large 12-inch nonstick skillet up to heat over medium. Drizzle in a few tablespoons of EVOO and add in the mushrooms. Do not touch for 5 minutes so they form a crust. Stir and cook untouched for another 3-4 minutes. Once golden brown liberally season with salt and pepper.
Deglaze the pan with the white wine. Cook until almost fully absorbed, about 2-3 minutes. Add in the garlic and cook for 1-2 minutes. Next add in Campbell's® Condensed Cream of Mushroom Soup, parmesan and water, and stir together. Taste for seasoning and keep warm on low heat. If it thickens too much as it sits you can add a few extra tablespoons of water to thin it back out.
Turn your oven to broil on high. Slice the bread in half lengthwise, place on a sheet tray and drizzle with a little EVOO. Broil until golden and crispy.
Once the bread is ready, remove the mushrooms from heat and stir in the chives. Mound up the mushrooms equally on both pieces of toasted bread. Garnish with more Parmesan, minced chives, parsley leaves and a drizzle of EVOO.
Information
Category

Breakfast/Brunch
Image Source: Megan Mitchell