Tyler Florence Steak
Tyler Florence Clears Up These Steak Myths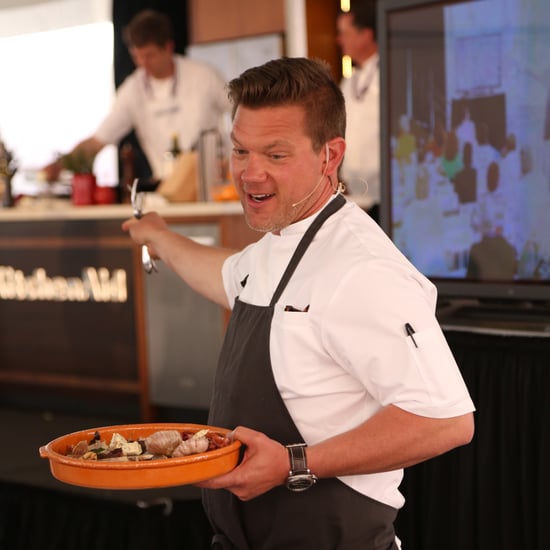 Only an expert like Tyler Florence would attempt to clear up all the myths surrounding such a tricky topic as steak at the Food & Wine Classic in Aspen. To pepper a steak prior to cooking or not to pepper? Is a grill mark a coveted barbecue char or simply a big bad burn mark? Read on to clear up the biggest steak myths.
Myth: you should marinate a steak. Say what? Don't you dare! A wet marinade will steam the meat and it won't give you that golden brown crust.
Myth: you should season liberally with salt and pepper. Skip the pepper when seasoning raw steak. Pepper burns at a high heat and develops a bitter flavor. Always liberally season a raw steak with a good kosher salt, but wait to pepper the steak until after it's cooked.
Keep reading for more steak fiction, debunked.
Myth: grill marks are sexy. The Maillard reaction is sexy — not grill marks. The Maillard reaction is when the amino acids and carbohydrates on the surface of the steak melt when applied to high heat and create that coveted caramelized crust. However, you don't want grill marks, which (sorry, folks) is just burnt meat.
Myth: you should test the beef with a thermometer. There's no need to use a thermometer if you have a cake tester handy. Poke it in the center of the steak, then press the tester to the bottom of your lip. If it's above body temperature, then it's a perfect medium-rare steak.
Myth: you ought to make a fancy steak sauce. You could, but why not just melt the fatty steak trimmings down and use it to baste the steak after it comes out of the oven? Then top the steak with some compound butter. Tyler processed butter, truffle shavings, and fresh herbs to create a compound butter. Spend the extra time shaping some quenelles, then place them over the finished steak.