Simple Stir-Fry Shrimp and Rice Noodle Recipe Dinner
Noodle Over Stir-Fried Shrimp and Cilantro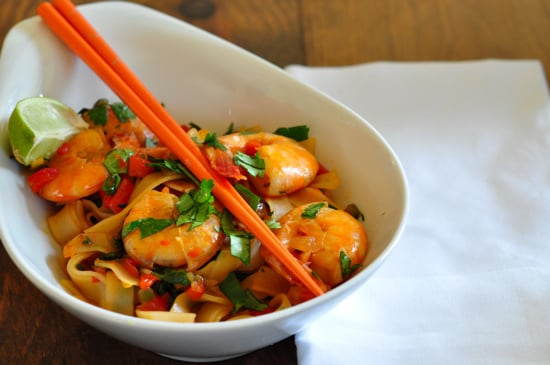 I'm always looking for easy dinners that are tasty and fresh. Stir-fries are the perfect candidate for such a meal and this weekend, I pulled out the wok to make a simple shrimp and rice noodle dish. The shrimp required the most prep since I had to devein them. However, once all of the ingredients are prepped in individual bowls, the cook time is really fast. In under 15 minutes, I had an exceptionally delicious dinner. The mild sauce combines soy sauce, fish sauce, brown sugar, and lime juice — creating a perfectly light Spring dinner. Skip takeout tonight and keep reading for the recipe.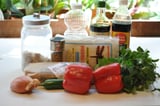 Ingredients
Kosher salt
6 oz. 1/4-inch-wide dried rice noodles (pad thai)
2 medium limes, 1 juiced and 1 cut into wedges
1-1/2 Tbs. packed light brown sugar
2 tsp. soy sauce
1 tsp. fish sauce
3/4 lb. peeled and deveined large shrimp (31 to 40 per lb.)
3 Tbs. canola or peanut oil
1/2 tsp. ground coriander
Freshly ground black pepper
2 medium red bell pepper, cored, seeded, and finely diced
1 medium jalapeño, seeded and finely diced
1 large shallot, finely diced
1/4 cup chopped fresh cilantro
Directions
Bring a medium pot of well-salted water to a boil. Add the noodles, lower the heat to a gentle simmer, and cook, stirring occasionally, until the noodles are just tender, 5 to 7 minutes. Transfer to a colander and run under cold water to cool slightly. Drain well.
In a small bowl, combine the lime juice, sugar, soy sauce, and fish sauce; set aside. In a medium bowl, toss the shrimp with 1 Tbs. of the oil, the coriander, 1/2 tsp. pepper, and 1/4 tsp. salt.
Heat the remaining 2 Tbs. oil in a 12-inch nonstick skillet over medium-high heat until shimmering hot. Add the red pepper, jalapeño, and shallot, sprinkle with 1/4 tsp. salt, and cook, stirring, for 1 minute.
Add the shrimp and cook, stirring, until it turns pink and is almost cooked through, about 2 minutes. Add the lime juice mixture and cook, stirring, until the shrimp is cooked through, about 1 minute more.
Add the noodles and half of the cilantro; toss until the noodles heat through and pick up the sauce, 1 to 2 minutes.
Serve sprinkled with the remaining cilantro, with the lime wedges on the side for squeezing.
Serves 3-4.
Information
Category

Main Dishes, Fish

Cuisine

North American