Miso Sesame Cucumber Salad
Magical Miso: Sesame Miso Cucumber Salad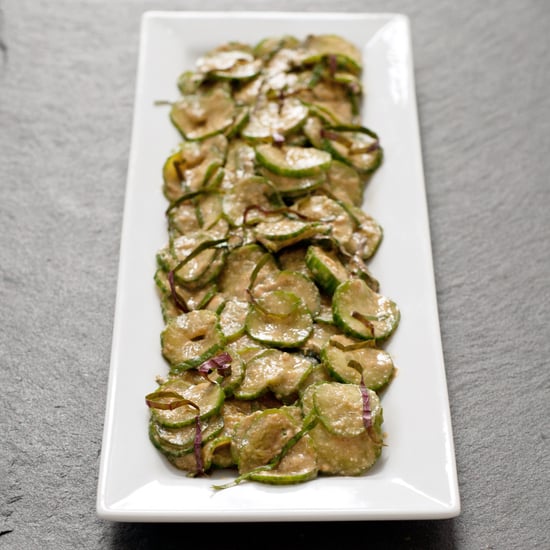 This isn't the first time I've extolled miso's magic, and it likely won't be the last, for the salty, umami-rich fermented soybean paste works wonders on nearly everything it touches. (It even has a place in the world of sweets!) This refreshing cucumber salad is no exception. Genmai (brown rice) miso, which is richer and maltier tasting than the more common shiro (white) miso, melds with nutty sesame seeds and sweet-leaning rice wine vinegar into an unusual dressing that compels multiple tastes in order to unlock the mysteries of its many layers of flavor.
Add indescribable shiso (no, it doesn't really taste like mint, basil, or any of the herbs that are more recognizable to the Western palate) and paper-thin rounds of cucumber to the mix, and the resulting salad is truly unlike anything you've likely tried before. Try it at least once, though I doubt it'll be your one and only tango with this dish.
Get the umami-packed recipe.
Salt-Massaged Cucumber With Miso and Sesame
Adapted from Japanese Farm Food
by Nancy Singleton Hachisu
Notes
Persian cucumbers and other small, slender cucumbers are a good substitute for the Japanese variety. Shiso can be found in some Asian supermarkets or online. A mandoline makes quick work of slicing the cucumbers.
Ingredients
1 3/4 pounds Japanese cucumbers (7 or 8 small)
1/2 tablespoon fine sea salt
4 tablespoons sesame seeds, toasted
3 tablespoons brown-rice miso
2 tablespoons rice vinegar
6 shiso leaves, chiffonaded
Directions
Slice the cucumbers into very thin rounds and toss with the salt in a medium mixing bow. Let sit 10 minutes.
Grind the sesame seeds in a mortar and pestle or spice grinder until most of the seeds have broken down and are almost paste-like. Add the ground sesame seeds, miso, and rice wine vinegar to a large mixing bowl and blend until creamy.
Squeeze the cucumbers by handfuls to express the water, then add to the sesame-miso dressing. Gently toss with your hands to coat the cucumbers in dressing.
Add the shiso leaves, and toss gently once more to distribute the shiso leaves in the salad.
Information
Category

Vegetables, Salads

Cuisine

North American

Yield

Serves 6