Indian-Inspired Dinner Party Menu and Recipes
Come Party With Me: Bike Ride — Menu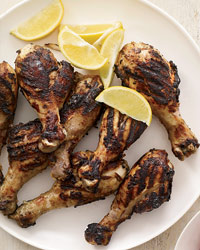 I've developed a newfound love for bike riding. To celebrate my hobby, I'm inviting some friends to join me for an afternoon bike ride. When we arrive back at my house, we'll enjoy a leisurely mid-Summer meal on the patio. Since I'm spicing things up with a new activity, I'm serving an equally exotic Indian-inspired meal. We'll unwind with red-lentil dal and crunchy pita chips. While we savor this snack, I'll throw some marinated tandoori-style chicken drumsticks on the grill. This finger-licking-good chicken will be served at the table with a curried couscous salad with roasted vegetables, peach chutney, and cilantro yogurt. The salad and dip can be made before the bike ride.
Interested in these savory recipes? Here they are.
Ingredients
1/2 pound red lentils (about 1 1/4 cups), picked over and rinsed
One 14 1/2-ounce can low-sodium chicken broth, or homemade, skimmed of fat
1 cup water
1/2 teaspoon turmeric
2 tablespoons unsalted butter
4 garlic cloves, minced
1 1/4 teaspoons cumin seeds
1/2 teaspoon crushed red-pepper flakes
1 large tomato, seeded and finely diced
1/4 cup fresh mint, finely chopped
1/2 teaspoon coarse salt
Directions
In a medium saucepan, combine lentils, broth, water, and turmeric. Bring to a boil, reduce heat, and simmer, stirring occasionally, until the lentils are tender, about 20 minutes.
Meanwhile, melt butter in a small saucepan; add garlic, cumin seeds, and crushed red pepper. Cook, stirring, until fragrant, about 3 minutes.
Remove the lentils from heat, and stir in the garlic mixture, diced tomato, mint, and salt. Serve warm.
Serves 6.
Information
Category

Dips, Appetizers

Cuisine

Indian
Grilled Tandoori-Style Chicken Drumsticks
From Food & Wine
Ingredients
1 cup plain nonfat yogurt
One 2-inch piece of ginger, peeled and finely grated
2 large garlic cloves, finely grated
2 tablespoons fresh lemon juice
1 tablespoon mustard seeds
1 1/2 teaspoons garam masala (see Note)
1 teaspoon kosher salt
1/2 teaspoon Kashmiri chile powder or cayenne pepper
Eight 4-ounce skinless chicken drumsticks, trimmed of excess fat
1/2 teaspoon chaat masala (see Note)
Directions
In a large bowl, whisk the yogurt with the ginger, garlic, lemon juice, mustard seeds, garam masala, kosher salt and chile powder. Using a small, sharp knife, make shallow 1-inch slashes in the chicken. Add the chicken to the marinade and turn to coat. Cover and refrigerate for 4 hours.
Light a grill, heat a grill pan or preheat the oven to 450°. Remove the chicken legs from the marinade, wiping off all but a thin layer. Grill the chicken legs over moderate heat, turning occasionally until browned and cooked through, 30 minutes. Alternatively, roast the chicken legs on an oiled baking sheet for 20 minutes, turning once halfway through. Transfer the chicken legs to plates, sprinkle with the chaat masala and serve.
Serves 4.
Notes: Garam masala and chaat masala are spice blends that are available from Indian markets or kalustyans.com. Garam masala, which contains sweet spices like cinnamon and clove, is also available at some supermarkets.
Information
Category

Poultry, Main Dishes

Cuisine

Indian
Curried Couscous With Roasted Vegetables, Peach Chutney, and Cilantro Yogurt
From Bon Appétit
Ingredients
Cilantro yogurt
3 cups (loosely packed) fresh cilantro leaves (from 3 large bunches)
1 tablespoon fresh lime juice
3/4 teaspoon salt
1/2 cup plain whole-milk yogurt
1/2 cup sour cream
Peach Chutney
4 green onions, chopped
1/4 cup dried currants
1 tablespoon Sherry wine vinegar
2 teaspoons grated peeled fresh ginger
1 3/4 pounds peaches (about 4 medium), peeled, halved, pitted
Roasted vegetables
Nonstick vegetable oil spray
2 1-pound eggplants, unpeeled, cut into 1-inch cubes
6 tablespoons corn oil
1 1/4 pounds medium zucchini, halved lengthwise, cut crosswise into 1-inch pieces
3 large red bell peppers
Couscous
2 tablespoons corn oil
1 medium onion, chopped
1 tablespoon curry powder
3 cups water
2 cups (12 ounces) plain couscous
1/2 cup coarsely chopped roasted salted cashews
1/4 cup dried currants
Directions
For yogurt: Combine cilantro, lime juice, and salt in processor; blend to coarse puree. Transfer to medium bowl; mix in yogurt and sour cream. Season with pepper. (Can be made 1 day ahead. Cover and chill.)
Make peach chutney: Combine onions, currants, vinegar, and ginger in medium bowl. Cut peaches into 1/3-inch cubes. Add to onion mixture and toss to coat. Cover; chill at least 1 hour and up to 6 hours, tossing occasionally.
For vegetables: Preheat oven to 400°F. Spray 2 large baking sheets with nonstick spray. Mound eggplant cubes on 1 sheet; drizzle with 4 tablespoons oil. Sprinkle with salt and pepper; toss to coat. Spread out evenly. Mound zucchini on second sheet; drizzle with remaining 2 tablespoons oil. Sprinkle with salt and pepper; toss to coat. Spread out evenly. Roast eggplant and zucchini until golden and tender, turning occasionally with spatula, about 25 minutes for zucchini and 50 minutes for eggplant. Transfer vegetables to bowl and cool.
Meanwhile, char peppers directly over gas flame or in broiler until blackened on all sides. Enclose in paper bag; let stand 10 minutes. Peel and seed peppers. Cut 2 peppers into 1-inch pieces. Thinly slice remaining pepper and reserve for garnish.
For couscous: Heat 1 tablespoon oil in heavy large saucepan over medium-high heat. Add onion; sauté until soft, about 6 minutes. Mix in curry powder; stir 1 minute. Add 3 cups water; bring to simmer. Cover; reduce heat to medium-low and simmer curry water 10 minutes.
Heat remaining 1 tablespoon oil in heavy large pot. Add couscous and stir constantly until color darkens and couscous is toasted, about 3 minutes.
Mix in hot curry water. Turn off heat, cover pot, and let stand until couscous is tender and curry water is absorbed, about 10 minutes. Fluff couscous with fork to separate grains. Mix in cashews and currants and cool completely. Mix in eggplant, zucchini, and bell pepper pieces. Season salad to taste with salt and pepper.
Mound salad on large platter; garnish with reserved bell pepper slices. Serve with cilantro yogurt and chutney.
Serves 6-8.
Information
Category

Grains , Salads

Cuisine

Indian