How to Deglaze a Pan
Rescue Me! The Bottom of My Pan Is Burning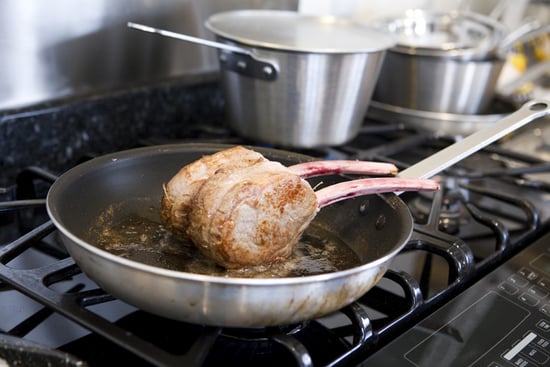 Searing meat, sautéing onions, or stir-frying veggies in a sauté pan can cause a layer of caramelization to form on the bottom of the pan. Stainless steel pans are the most notorious for burning. To avoid this, try a nonstick or cast iron pan instead, because the mixture of fat, carbohydrate, and protein molecules won't as readily stick to the bottom of the pan and cause burning. Even if the pan is edging on the side of burned, whatever you do, don't toss it carelessly in the sink. Take a deep breath, lower the heat, and assess the damage first. If it is mostly black, scrape the meat or vegetables onto a clean plate quickly, then soak the pan in soapy water to make the cleaning process easier. Transfer the contents of the plate onto a clean pan if they are not cooked thoroughly. Only this time, add sufficient oil, and keep the flame low to prevent burning.
Otherwise, if the "caramelization" is a dark brown with a few spots of black, then deglaze the pan instead! Despite its unattractive appearance, the layer of dried juices is called the "fond." In French, it means "base" or "foundation," and it acts as the base of many pan sauces. Even though it appears messy and unusable, it is actually condensed flavor and will add unbelievably delicious depth to whatever you are cooking, whether it's sauces, gravies, or bases for soups.
Learn the deglazing technique that will change your sauces forever.
Dissolving the fond off the bottom of the pan is a technique called "deglazing." Removing the fond is easiest when the pan is empty, so remove the contents of the pan. Then, over medium heat, add a few tablespoons of water, stock, or wine to the pan. Use extreme caution, because the liquid will bubble vigorously and can cause severe burns. Using a wooden spoon, scrape and loosen the browned bits off the bottom of the pan until they start to dissolve into the liquid. If the pieces do not dissolve completely, then use as whisk to help break them down.