Hanukkah Cocktail Party Menu and Recipes
Come Party With Me: Hanukkah Cocktail — Menu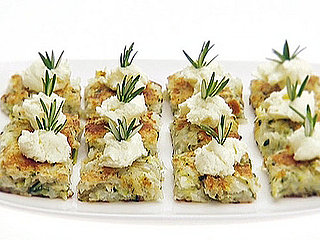 Since Hanukkah happens early this year, why not kick start your holiday season by hosting a quick and easy cocktail party on Friday or Saturday evening? Offer classic and delicious bites in the form of homemade and store bought appetizers. Crispy zucchini and potato latkes are a must; the recipe featured here is ideal for entertaining because you make one giant latke and cut it into pieces for serving.
A day in advance, puree a big batch of mushroom soup. Reheat before the soiree and fill small bowls or shot glasses with it. For the final homemade component, set out platters of crunchy toasts slathered in rich onion spread. Supplement these dishes with smoked salmon, an assortment of your favorite cheeses, and nuts or olives from a local market. To look at my recipe recommendations keep reading.
Ingredients
Vegetable cooking spray
2 pounds russet potatoes, peeled and grated
2 medium zucchini, grated
3 garlic cloves, minced
1 teaspoon chopped fresh rosemary leaves, plus leaves, for garnish
1/4 cup grated parmesan, plus 1 tablespoon
1/4 cup seasoned bread crumbs
2 egg whites, lightly beaten
2 teaspoons kosher salt, plus extra for seasoning
1/4 teaspoon freshly ground black pepper, plus extra for seasoning
3 tablespoons vegetable oil
Olive oil, for drizzling
1 1/2 cups mascarpone cheese, at room temperature
Directions
Place an oven rack in the center of the oven. Preheat the oven to 450 degrees F. Spray a baking sheet, liberally, with vegetable cooking spray. Set aside.
Lay the potatoes and zucchini on 2 kitchen towels. Bring the corners of the towels together and squeeze out the moisture from the vegetables.
Place the vegetables in a large bowl. Add the garlic, chopped rosemary, 1/4 cup parmesan cheese, bread crumbs, egg whites, salt, and pepper. Mix well until all ingredients are combined.
In a 12-inch nonstick skillet, heat the vegetable oil over medium heat. Add the vegetable mixture to the pan. Using a spatula, press the mixture evenly into the pan. Drizzle the top with olive oil and sprinkle with the remaining 1 tablespoon parmesan cheese. Cook for 8 minutes or until the edges of the mixture begin to brown. Slide the pancake, cooked side down, onto the prepared baking sheet. Bake for 20 to 25 minutes or until the top of the pancake starts to brown and the edges are crispy.
In a small bowl, beat the mascarpone until smooth and season with salt and pepper, to taste.
Cut the pancake into 1 1/2-inch squares and arrange on a serving platter. Pipe or spoon the seasoned mascarpone on top and garnish with a few fresh rosemary leaves.
Makes 32 latkes.
Information
Category

Appetizers, Finger Foods

Cuisine

North American
Ingredients
3/4 cup dried Polish or porcini mushrooms (about 3/4 ounce)
6 tablespoons unsalted butter
3 medium leeks (about 1 pound), white and pale-green parts only, finely chopped and rinsed well
6 tablespoons all-purpose flour
3/4 cup medium sherry, such as amontillado
5 cups homemade or low-sodium store-bought chicken stock
1/2 teaspoons finely chopped fresh thyme
2 pounds assorted fresh mushrooms, such as cremini and white
Coarse salt and freshly ground pepper
1 cup heavy cream
1 cup whole milk
Directions
Cover dried mushrooms with 2 cups boiling water in a heatproof bowl; let stand until soft, about 30 minutes. Using a slotted spoon, transfer mushrooms to a cutting board, and finely chop; set aside. Strain soaking liquid; set aside.
Melt butter in a large saucepan over medium heat. Add leeks; cook, stirring occasionally, until soft but not browned, 10 to 15 minutes. Stir in flour; cook 2 minutes. Add sherry; whisk until smooth. Whisk in stock, thyme, and reserved soaking liquid; bring to a boil. Reduce heat; simmer 5 minutes. Stir in dried and fresh mushrooms. Remove from heat.
Pour into a large bowl. Working in 3 batches, puree soup in a food processor, making sure there are no remaining mushroom pieces; return to pan. Bring to a simmer; cook, stirring occasionally, 15 minutes. Season with salt and pepper.
Stir in cream; bring just to a simmer. Season with salt. Stir in milk; cook until just heated through. Serve immediately, or refrigerate, covered, up to 3 days; reheat before serving.
Serves 12.
Information
Category

Main Dishes, Soup

Cuisine

North American
Ingredients
2 medium sweet onions, such as Spanish Sweet or Vidalia
2 teaspoons olive oil
2 teaspoons honey
4 large cloves garlic, peeled
1/8 teaspoon salt
Directions
Peel and quarter onions. In a large bowl stir together oil and honey. Add onions, garlic, and salt, stirring well to coat. Transfer mixture to a lightly greased 2-quart baking dish.
Bake in a 350 degree F oven for 30 to 40 minutes or until onions turn golden brown, stirring occasionally. Remove from oven; let cool.
Transfer mixture to a food processor bowl or blender container. Cover and process or blend until smooth. Serve on toast points or crusty French bread rounds. Refrigerate any remaining spread, tightly covered, for up to one week.
Makes about 1/2 cup.
Information
Category

Appetizers, Spreads

Cuisine

North American