Fruity Pebbles Cereal Shot Glass Recipe
Up Your Cereal Game With These Fruity Pebbles Cereal Shots
Just when you think you've seen it all when it comes to cereal, we're here to surprise you with these milk and cereal shots. Fruity Pebbles and marshmallows molded into shot glasses, coated with milk chocolate, and filled with milk? You've never been able to enjoy your breakfast like this before! You can re-create this recipe using just about any cereal you like, so there's no excuse not to try these out this weekend. If you're craving more Fruity Pebbles, check out our cheesecake. If you can't get enough shot glasses, you need to try these no-bake Oreo cookie shot glasses.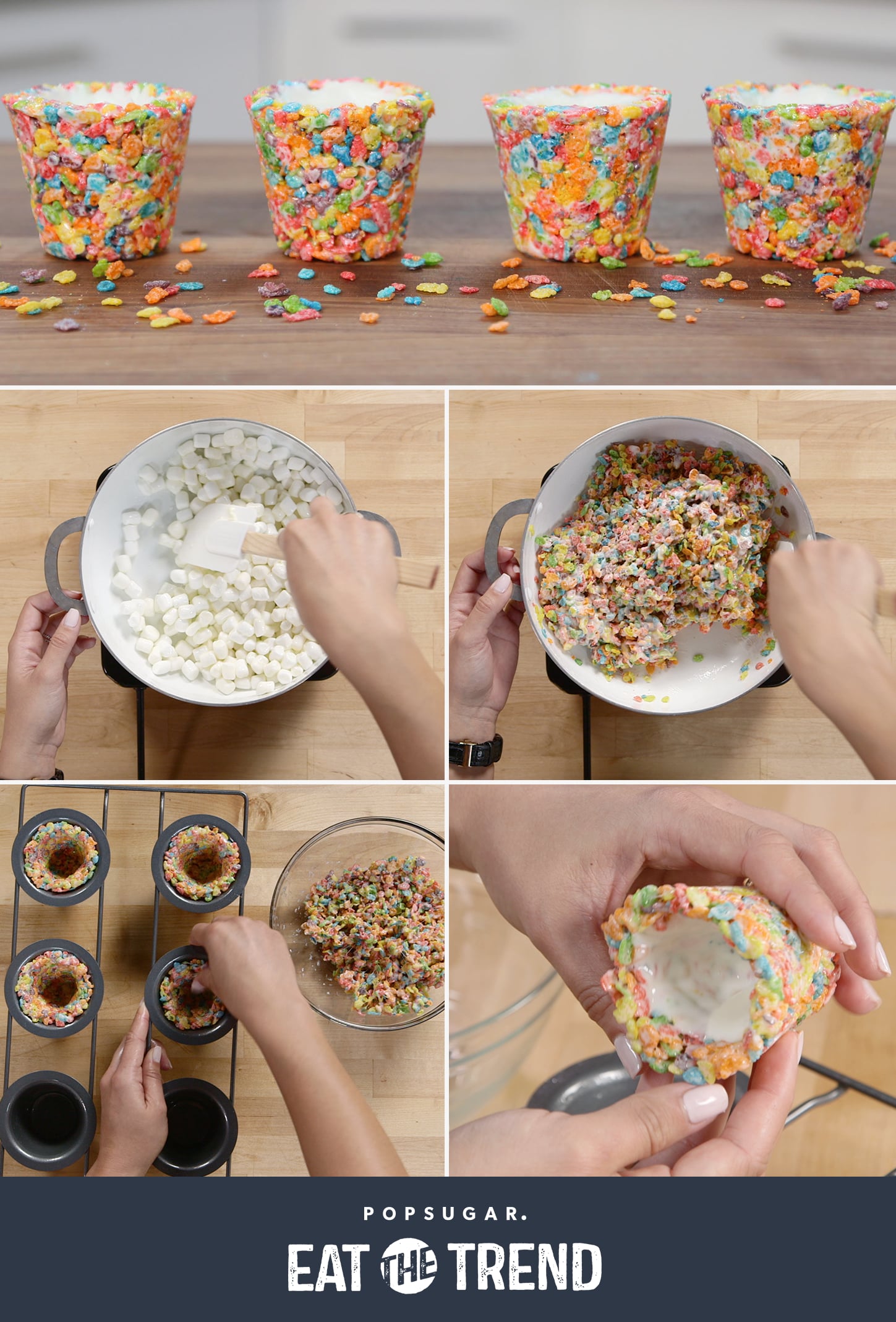 Fruity Pebbles Cereal Milk Shots
From Brandi Milloy, POPSUGAR Food
Notes
You may need to pour two coats of white chocolate into the shot glasses before freezing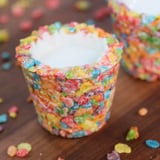 Ingredients
3 1/2 tablespoons butter
4 cups mini marshmallows
4 cups Fruity Pebbles cereal
Nonstick cooking spray
1 cup white chocolate, melted
Milk
Special equipment:
Popover pan
Directions
Into a pot, melt butter on medium-low heat. Add mini marshmallows and continue mixing until melted. Add cereal and mix until fully incorporated. Pour into a bowl and let cool until warm to the touch.
Spray popover pan with nonstick cooking spray and set aside. Form the cereal mixture inside each mold, making the walls of the cereal shots about 1/4 inch thick.
Pour chocolate into the well of each cereal shot. Let sit for a minute and the pour the excess chocolate out. Chill cereal shots in the freezer for 5 minutes or until chocolate has set. Serve milk inside each shot glass and enjoy!
Information
Category

Breakfast/Brunch

Yield

6 shot glasses

Total Time

19 minutes, 59 seconds
Image Source: POPSUGAR Photography / Tatsuya Kawauchi