Fast and Easy Recipe For Roast Chicken in a Cast-Iron Skillet
Cast-Iron Skillet Makes For Ridiculously Easy Roast Chicken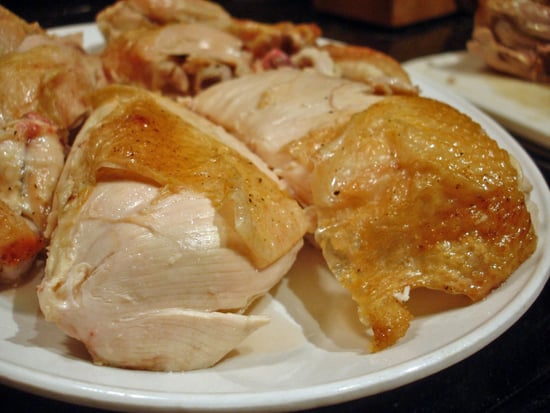 Under the headline "World's Easiest Dinner" in Esquire magazine, this recipe was impossible to ignore. Roast chicken is already one of the easiest hearty meals around, but cooking it in a cast-iron skillet makes it pretty much foolproof. From chef Linton Hopkins of Atlanta's Restaurant Eugene, this three-ingredient regimen renders a bird with golden-brown skin that's "juicy as hell."
The recipe calls for a three-pound chicken, though I got one that was about 2.5 pounds, which was just big enough to squeeze into my 10-inch skillet. I only salted and peppered my meat, and with so much moistness, it had plenty of flavor. For the delicious details and the recipe, read more.
Ingredients
one 3- to 3.5-pound chicken
1 tablespoon kosher salt
coarsely ground black pepper, to taste


Directions
Place your oven rack in the lower third of the oven and preheat to 450 degrees.
Get yourself a good chicken — 3 to 3.5 pounds is ideal — and rinse it inside and out under cold running water. Using paper towels, dry the bird thoroughly inside and out. The chicken must be bone dry or it will steam rather than brown.
Set it in a cast-iron skillet and generously season it with 1 tablespoon kosher salt and coarsely ground black pepper to taste.
Place the skillet in the preheated oven and go about your business.
For doneness: Slit underside of thigh — juices must run clear (about 45 minutes). The high heat turns the chicken a golden brown, and it's juicy as hell.
Serves 4.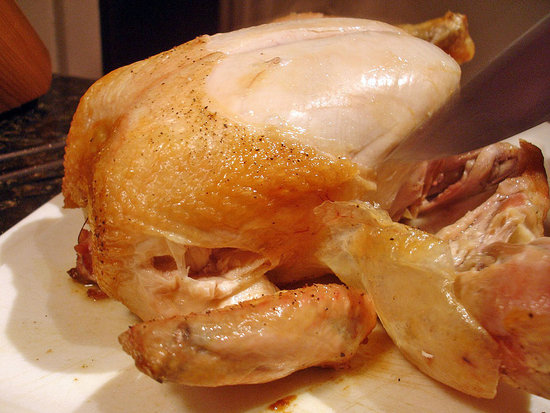 Information
Category

Poultry, Main Dishes

Cuisine

North American