Fast and Easy Recipe For Pork Tenderloin With Brussels Sprouts
Monday's Leftovers: Roasted Pork With Brussels Sprouts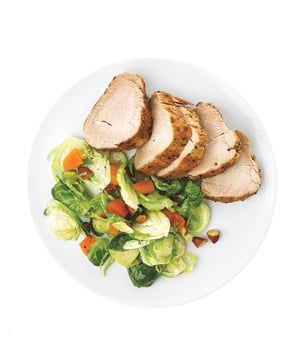 I'm never happier than when I discover a good sale at the meat counter, and on a really generous week, my grocer offers two-for-one deals on a healthy and quick-cooking cut, pork tenderloin. I'll buy two, but diversify my plate by making a hearty pork, apple, and squash meal one night, then digging in to a completely different pork meal the following evening. Tonight, utilize leftover pork by oven-roasting it with a light seasoning, all the while quick-sautéing brussels sprouts, almonds, and apricots until wilted and caramelized. If you prefer extra flavor, dry-rub the pork spices and herbs like cumin, paprika, dried sage, and oregano. Get the recipe now.
Roasted Pork with Shredded Brussels Sprouts
From Real Simple
Ingredients
2 tablespoons olive oil
1 pork tenderloin (1 1/4 pounds)
Kosher salt and black pepper
12 ounces Brussels sprouts, thinly sliced
1/4 cup dried apricots, chopped
2 tablespoons roasted unsalted almonds, chopped
Directions
Heat oven to 400º F. Heat 1 tablespoon of the oil in a large ovenproof skillet over medium-high heat.
Season the pork with ½ teaspoon salt and ¼ teaspoon pepper. Cook, turning occasionally, until browned, 6 to 8 minutes.
Transfer the skillet to oven. Roast the pork until cooked through, 10 to 12 minutes. Let rest before slicing.
Meanwhile, heat the remaining tablespoon of oil in a second large skillet over medium-high heat.
Add the Brussels sprouts, apricots, almonds, ½ teaspoon salt, and ¼ teaspoon pepper. Cook, tossing, until the Brussels sprouts are just tender, 3 to 4 minutes.
Serve the Brussels sprouts with the pork.
Serves 4.
Information
Category

Main Dishes, Pork

Cuisine

North American