Brussels Sprouts Recipe
Welcome Brussels Sprouts to the Thanksgiving Table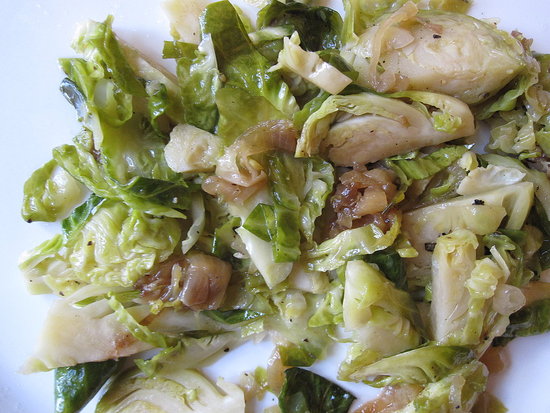 Although many people enjoy green beans on Thanksgiving, this year I'm suggesting you serve Brussels sprouts instead. This preparation, which tosses the sprouts with caramelized shallots, is my current fave. It's quick, easy, and very flavorful. Although the recipe doesn't say you can make it in advance, I did, and found it to be even more tasty the next day when it was reheated! Learn the uncomplicated method here.
Brussels Sprouts With Caramelized Shallots
From Bon Appétit
Ingredients
6 tablespoons (3/4 stick) butter, divided
1/2 pound shallots, thinly sliced
Coarse kosher salt
2 tablespoons apple cider vinegar
4 teaspoons sugar
1 1/2 pounds brussels sprouts, trimmed
3 tablespoons extra-virgin olive oil
1 cup water
Directions
Melt 3 tablespoons butter in medium skillet over medium heat. Add shallots; sprinkle with coarse kosher salt and pepper. Sauté until soft and golden, about 10 minutes. Add vinegar and sugar. Stir until brown and glazed, about 3 minutes.
Halve brussels sprouts lengthwise. Cut lengthwise into thin (1/8-inch) slices. Heat oil in large skillet over medium-high heat. Add sprouts; sprinkle with salt and pepper. Sauté until brown at edges, 6 minutes. Add 1 cup water and 3 tablespoons butter. Sauté until most of water evaporates and sprouts are tender but still bright green, 3 minutes. Add shallots; season with salt and pepper.
Serves 8-10.
Information
Category

Vegetables, Side Dishes

Cuisine

North American