Vegan Curry Recipe From Eat, Drink & Be Vegan
Make This: Vegan Zucchini Chickpea Tomato Curry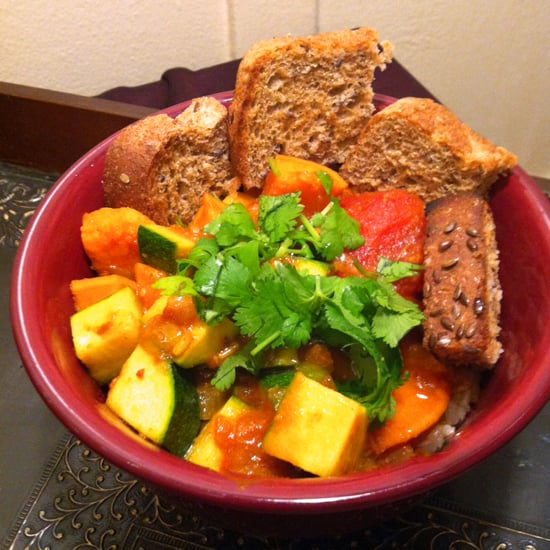 I recently came across this recipe for Zucchini Chickpea Tomato Curry from Dreena Burton's cookbook Eat, Drink, & Be Vegan, and I knew it was the punch of flavor I was looking for. The zucchini, yams, and tomato complemented each other perfectly. And although I hadn't used all these recipe ingredients before, namely turmeric or fenugreek, it was a great crash course in using new spices to give vegan dishes life. I paired the dish with some easy brown rice and a crusty slice of flaxseed toast for some dipping.
Keep reading to see this Indian-inspired recipe for an easy curry.
Zucchini Chickpea Tomato Curry
Adapted from Eat, Drink, & Be Vegan
Ingredients
1 tablespoon coconut oil
1/2 yellow onion, diced
1 sweet potato, diced in 1/2" chunks
2 cloves garlic, crushed
1" ginger, grated
1 tablespoon curry powder
1 teaspoon coriander seeds
1 teaspoon cumin seeds
1/2 teaspoon turmeric powder
1/2 teaspoon fenugreek seeds
1 28 oz can crushed tomatoes
2 zucchini, diced in 1/2" chunks
1 14 oz can chickpeas, drained and rinsed
1/2 teaspoon agave nectar
1/2 cup cilantro, chopped
Juice of 1 lime
Directions
1. Heat the coconut oil in a large pot over medium-high heat. Add the onion and sweet potato, sauté until the onion is tender, about 10 minutes.
2. Toss in the garlic, salt, ginger, curry powder, coriander, cumin, fenugreek, and turmeric. Sauté for one minute.
3. Add the tomatoes, stirring to combine. Bring the mixture to a boil, reduce to a simmer, cover, and let cook for 10 minutes.
4. Add the zucchini, chickpeas, and agave nectar. Cover and simmer for 10-12 minutes, until all the vegetables are tender. If the mixture looks dry, add vegetable stock or water.
5. Add the cilantro and lime. Serve immediately.
Serves 3.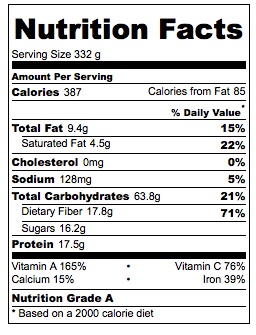 Information
Category

Soups/Stews

Cuisine

North American
Nutritional Source: Calorie Count