Self Magazine Workout in the Park Event Details
Get Fit, Get Outside: Self Magazine's Workout in the Park
Fit fanatics, get excited! Spring is almost here, making it the perfect time for Self Magazine's "Workout in the Park" event, which encourages participants to get off of the treadmill and into the great outdoors of San Francisco, New York, and Chicago. It's almost like the pages of Self came to life and showed up in your own backyard!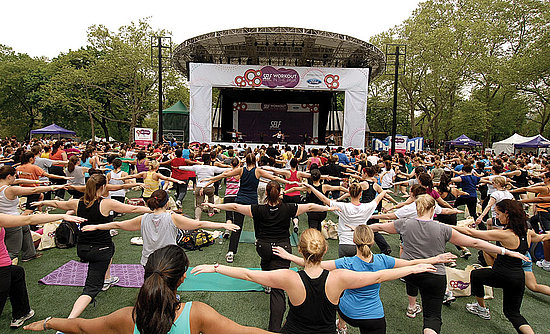 This year's festival will feature fitness classes and beauty and nutrition consultations led by some of the best in the industry. Participants can also expect a little swag in the form of freebies and giveaways — start off by receiving a one-year subscription to Self with the purchase of a $20 event ticket. A portion of the ticket proceeds will benefit Cancer and Careers and Susan G. Komen for the Cure.
Here are some highlights to look forward to:
Alison Sweeney, host of The Biggest Loser and author of The Mommy Diet, will be on hand at the San Francisco and Chicago Workout in the Park events.
Choose from 17 different fitness classes like Retro-Robics, Beach Body, and Masala Bhangra. There will also be classes inspired from the hit shows Glee and Dancing With the Stars.
Advance purchase is advised, and tickets for the Self Workout in the Park are on sale now. All the events start at 11 a.m. and run through 3 p.m. — rain or shine. Dates are as follow:
April 30, 2011 in San Francisco, CA, at Little Marina Green
May 7, 2011 in New York, NY, at Rumsey Playfield in Central Park
May 21, 2011 in Chicago, IL, at Butler Field in Grant Park — If you're in Chicago, don't forget to check out these other fitness events in the area.