Review of Body by Bethenny Frankel Workout DVD
Work Out Like "SkinnyGirl" Bethenny Frankel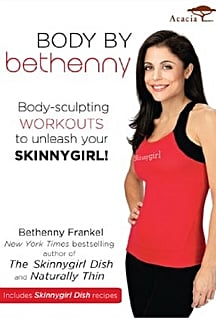 Like Buzz, I am a self-confessed Real Housewives of New York fan. I'm also on Team Bethenny, so I was excited to try out Bethenny Frankel's new fitness DVD, Body by Bethenny ($13), when it landed on my desk. Since Bethenny is more chef than fitness instructor, she enlists the help of Kristin McGee, the award-winning celebrity trainer who also shows up on 30 Rock from time to time. The two women take us through three different segments that can be done on their own or together. They are:
Yoga (40 minutes): The yoga segment is the bread and butter of Bethenny's workout regimen. The star has long talked about her love of yoga — even practicing it on the Real Housewives of New York. Kristin leads all of the the workouts with Bethenny sometimes offering modifications, but mostly comic relief. Kristin starts out with a series of sun salutations and poses, moving on to poses that focus on strengthening the lower body and core. She then finishes up with more difficult moves including some inverted poses. For those of you who are not at an advanced level in your practice (like myself), Bethenny is great at suggesting modifications to the moves. I did think that some of the more difficult poses could have benefited from a better explanation by Kristin. By the end of the workout, my body felt open and my muscles felt worked (especially my abs, arms, and glutes!).
To hear my thoughts on the rest of the workout, including the cool bonus features,
read more.
Strength (10 minutes): The strength training segment is pretty quick, which I was OK with since I was a bit tired from the yoga routine. According to Bethenny, these moves are meant to help you sculpt and tone your muscles while also increasing your metabolism. I thought that the exercises went well when paired with the yoga routine, but on their own weren't challenging enough. The moves are pretty basic — bicep curls, shoulder presses, etc. — making this a perfect workout for someone who is just starting to strength train. I challenged myself a bit more by using a heavier weight than the 5-pound weights Kristin and Bethenny were using.
Booty Blast (5 minutes): I really wished this would have been a longer segment — I mean, who doesn't want a tighter derriere? Five minutes of moves to give you a tighter, stronger backside. The moves are all the usual suspects: basic squats, leg lifts, and so on.
Bethenny's DVD has some really cool bonus features. Before she was a Real Housewife, Bethenny was building her SkinnyGirl empire by showing women healthy ways to eat and drink. This DVD not only has a cooking segment with Bethenny, it also comes with a small recipe booklet. There are also two workouts in the bonus features that draw from some of Kristin's past fitness DVDs.
Ultimately I thought that this was an all-around good fitness DVD to have at home, especially considering how reasonably priced it is. All of the workouts (especially when combined together) work all of the muscle groups in your body without making you feel like you can't get up and walk afterward. Bethenny's humor definitely comes through, but I was surprised how serious she was too. She definitely was focused during the routines and really seemed to want to encourage women to be healthy "whether you are a size two or a size 12." I'd say this is a great DVD for someone in the beginner to intermediate range or if you need a quick, basic at-home workout.