Recipe For Vegetarian Black Bean Soup With Chipotle Peppers
Healthy Recipe: Vegetarian Black Bean Soup With Chipotle Peppers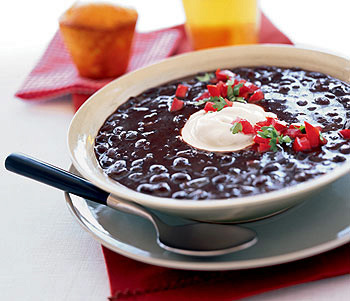 During the Winter I love having a hearty soup for dinner, and this recipe from Bon Appétit doesn't disappoint. I've been making it to much fanfare for a while, but over the years I've tweaked it, turning it into what I think is a perfect version of the original. Besides tasting great, it's good for you — the dish is low in fat and full of protein, iron, and vitamin C.
Meat eaters, don't you worry! Even though the soup is vegetarian, the chipotle peppers give the dish a nice smokiness, which helps mimic the same effects meat would have in the dish. (But a few pieces of crumbled turkey bacon sprinkled over the top doesn't hurt either!)
To see the recipe, read more.
Vegetarian Chipotle Black Bean Soup
Adapted from Bon Appétit
Ingredients
For the soup:
1 tablespoon olive oil
2 medium-size yellow onions, chopped
1 medium-size red bell pepper, chopped
1 medium-size green bell pepper, chopped
5 garlic cloves, minced
4 teaspoons ground cumin
2 bay leaves
1 16-ounce package dried black beans
2 1/2 tablespoons chopped canned chipotle chiles
4 cups water
4 cups vegetable broth (chicken broth can be used as a substitute)
3 tablespoons fresh lime juice
2 teaspoons kosher salt
1/4 teaspoon ground black pepper
For the garnish:
1 cup plain nonfat Greek yogurt
1/2 cup chopped seeded plum tomatoes
1/4 cup chopped fresh cilantro
Directions
Heat olive oil in large nonstick skillet over medium-high heat. Add onions and bell peppers and sauté until beginning to brown. Add garlic, bay leaves, and cumin; sauté for just under a minute.
Transfer mixture to 6-quart Dutch oven. Add beans, chipotles, water, and broth. Simmer on stove top until mixture reaches a boil.
Turn off heat, cover, and remove from stove top. Place into the oven and cook at 275°F until beans are very tender, about three hours. Make sure to check on the beans while cooking. If they look to dry, add more broth or water.
Remove Dutch oven from stove and transfer two cups of the bean mixture to blender; puree until smooth. Return puree to Dutch oven. Stir in lime juice, salt, and pepper.
Top each serving with a dollop of yogurt, tomatoes, and cilantro
Makes six servings.
Information
Category

Soups/Stews

Cuisine

Mexican