Healthy Recipe For Brown Rice and Edamame 2010-05-05 07:00:29
Healthy Side: Brown Rice and Edamame
The other night, I made a ridiculously easy dinner of roasted chicken and wanted a side dish that was healthy, light, and springy. With frozen edamame in my freezer and Texmati brown rice in my pantry, I cooked up this little dish.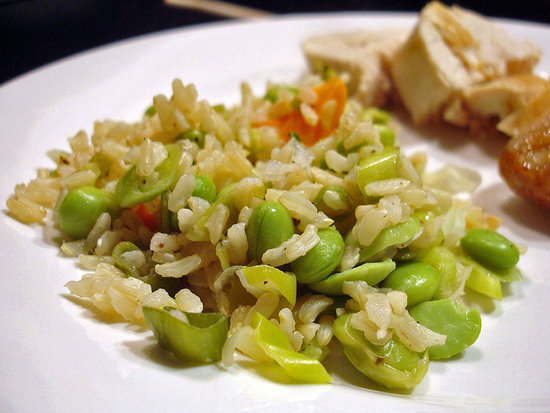 Since baby soybeans are loaded with protein and fiber and are a good source of iron and folate, this side dish would also make a very nutritious vegetarian meal, especially if you stir in some other veggies like I did. The green onions, toasted sesame oil, and lime juice keep this basic recipe from being bland. Get it when you read more.
Ingredients
Coarse salt and ground pepper
3/4 cup long-grain brown rice
1 1/4 cups frozen shelled edamame
1 tablespoon fresh lime juice
1 tablespoon rice vinegar
1 1/2 teaspoons toasted sesame oil
1/2 teaspoon sugar
3 scallions, thinly sliced on the diagonal
Directions
In a medium saucepan, bring 1 1/2 cups lightly salted water to a boil. Add rice, reduce to a simmer; cover and cook, 30 minutes.
Stir in edamame; cover and cook until rice is tender, 15 to 20 minutes. In a small bowl, stir together lime juice, vinegar, oil, and sugar until sugar is dissolved.
With a fork, stir lime juice mixture and scallions into rice; season with salt and pepper.
Serves 4.
Information
Category

Side Dishes, Rice

Cuisine

Other Asian