Halo Top New Dairy-Free Flavors 2018 Taste Test
Yo, Toasted Coconut Halo Top Is Off. The. Chain. (We Tried the 6 Other Vegan Flavors, Too!)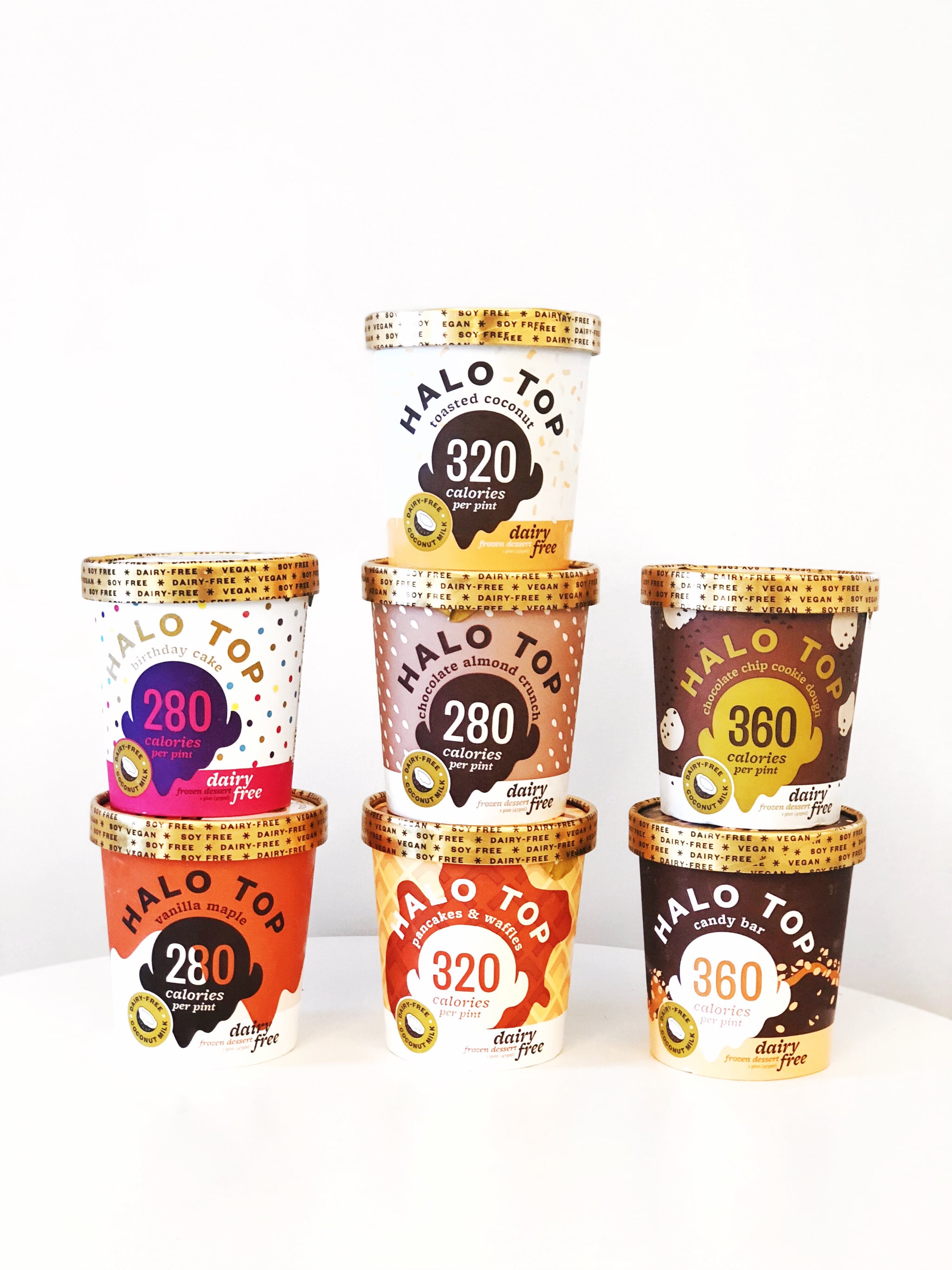 As superfans of the protein-packed ice cream icon, when we heard Halo Top released seven new dairy-free flavors — two of which were brand new flavors — we obviously had to try for ourselves.
Of the seven new additions (Toasted Coconut, Vanilla Maple, Candy Bar, Chocolate Almond Crunch, Pancakes & Waffles, Birthday Cake, and Cookie Dough) there were some clear winners, and some that didn't elicit as fervent a response. But that's how it goes with all taste tests, right? Dig in to these hilariously candid reactions to our first bites of this new batch.
Toasted Coconut
Let's just lead off with the best of the bunch: Toasted. Freakin'. Coconut. This highly anticipated flavor was the first to get wolfed down and we were left with an empty pint before the rest of the flavors were even half-way nibbled. Clearly there are a lot of coconut fans at POPSUGAR. Either that or we're all seriously ready for a tropical vacation. Anyway — the highlights!
Not too sweet, love the pieces of toasted coconut.
Yowza! A Hawaiian vacation in my mouth!
Yum! Perfect amount of sweetness.
Best one! I love coconut. Great addition with the real coconut pieces. Nice 'n toasty.
The coconut flakes make it!
Really good, but not as sweet as I normally like my ice cream. Good creamy consistency, and I love that they didn't skimp on the coconut bits.
Vanilla Maple
Another brand new addition to the Halo Top flavor repertoire, Vanilla Maple was both highly anticipated and well-received. Slightly reminiscent of pancakes (thanks to the distinct maple notes), this one was a winner all around.
Pretty tasty!
You can really taste the maple. A great twist on classic vanilla.
Yummy! Would be good on apple pie!
Mapley!
Candy Bar
The dairy version of Candy Bar was somewhat polarizing, but this coconut-milk-based iteration was all around loved.
Okay, YES. This works.
Good caramel and chocolate flavor!
Tastes like a Snickers!
Nice nutty flavor.
Mmmm.
Chocolate Almond Crunch
Not bad, CAC! While this wasn't the crowd favorite, no one was outright disappointed in it, either.
Good effort.
Almond comes through well.
Where is the crunch?
Not great.
Pancakes & Waffles
The most adored flavor from the non-vegan collection (released in 2017) didn't fare as well without the dairy. Reviews for this breakfast-inspired frozen treat were a tad lackluster.
Like dry pancake mix. Disappointing because the regular version is bomb AF.
Not too bad.
Tastes like flour.
Heavy on the flour.
Good caramel flavor.
Birthday Cake
The Funfetti flavor we've known and loved since the dawn of Halo Top time has become a point of contention in our taste test now that it's vegan. While some were really feelin' its dairy-free vibe, others were, well, you'll see.
Ooh, yes!
Tastes like Play-Doh.
Fun, light sweet taste.
Just OK; doesn't do anything for me.
No.
Re: Play-Doh.
I like. Good amount of sweet.
Cookie Dough
And finally, the least favorable flavor — which is honestly shocking, because the original version of Cookie Dough truly knocked it out of the park. We'll keep it brief. But who knows? Maybe it'll make like Cookies and Cream and get a makeover?
Terrible.
I'm SO confused.
I don't know what to say except gross.
Straight up Play-Doh.
Image Source: POPSUGAR Photography / Dominique Astorino