Countess LuAnn de Lesseps of Real Housewives of New York Shares Diet Tips With OK Magazine
The Countess Shares Her Diet Dos and Don'ts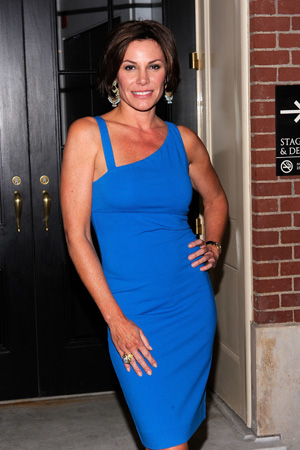 One Real Housewife of New York was noticeably absent from Bethenny Frankel's nuptials this weekend: Countess LuAnn de Lesseps. But if you've been following the show this season, her omission from the guest list is no real shocker. When we last saw the pair it was at New York Fashion Week, and Bethenny was yelling some pretty biting things at LuAnn: "I'm telling you to your face — I don't like you, I don't trust you, and I think you're a snake."
Though LuAnn may not have been at the celebration, we do have a glimpse into what kind of etiquette she may have followed at the reception. The Countess tells OK magazine:
"Never go to a party when you are hungry. You will have an easier time sticking to your diet if you have a light snack before you go out. Party food is supposed to be tempting and fun; you won't make good food choices if you are starving."
I think her advice of having a light snack is a good one; I once went to a party famished and scarfed down way too many bacon-wrapped scallops as a result. LuAnn also says that your diet is nobody's business but your own:
"Remember that your diet is a private matter. Let your friends enjoy their food without critiquing their choices. If you eat the bread, skip the wine. If you drink the wine, skip the bread. It's one or the other. I personally choose the wine."
When I am at a party, I give myself license to have the wine and the bread, because I don't like feeling deprived at a festive event. How about you — do you only give yourself one indulgence at a party?