Cost of Fitness in New York City
Whoa! This Is How Much a Month of Workouts Can Cost in NYC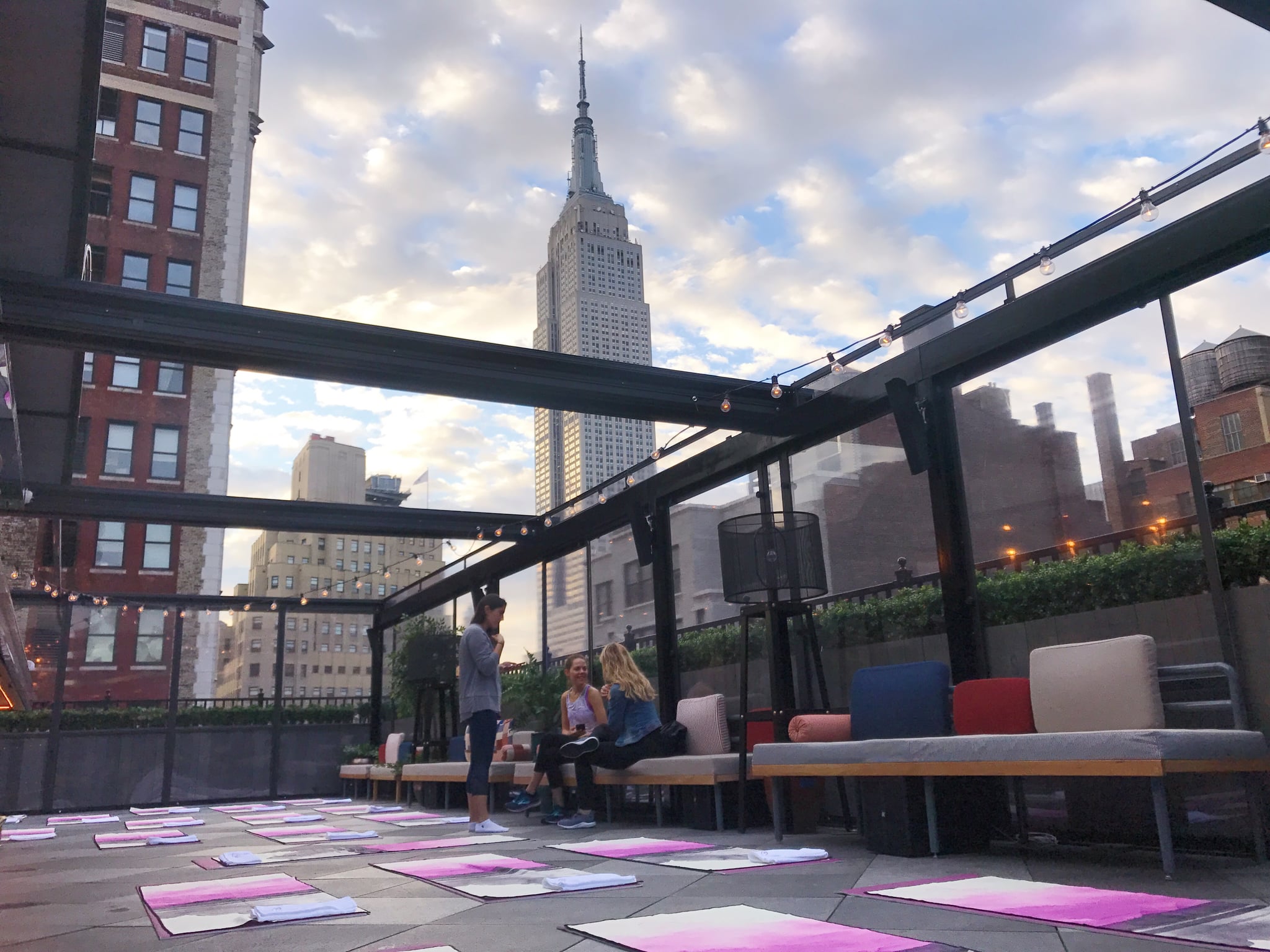 As my favorite SoulCycle instructor once said, you can't throw a penny in New York without hitting a gym or fitness studio. Allow me to confirm that she is, in fact, correct. From chain gyms to buzz-worthy boutique studios, nearly every street you walk down is home to several options. Like careers and good food, working out is one thing New Yorkers take very seriously.
But with New York City locations come New York City price tags. A standard boutique class (i.e., Barry's Bootcamp or Orange Theory) runs you about $34, excluding tax, water, or whatever rentals — cycling shoes, boxing gloves, or the like — you may need. Five classes a week would run you $680(!) a month. On the other hand, gym memberships can start at $10 for basic machines and range from $50 to over $200 with classes and luxury amenities included.
I've always been an active person, but having so many choices at my disposal really inspired me to kick it into gear. I needed to know if the hype around those buzzy classes was real and why. Little did I know, embarking on this "journey" of sorts would turn into somewhat of an addiction — one that kept my body in shape and my mind stress-free, but which deflated my budget in the process. So, to feed my own curiosity, I took a shameful dive into my bank statements and added up every fitness-related expense from the peak of my obsession last Summer. Read on to see the full breakdown.
Week One:
$26.13 — To avoid working out exclusively in group classes, I have a monthly membership at my neighborhood Blink Fitness. While it only has machines, weights, and a small floor area, it's moderately priced and a six-minute walk from my apartment.
$75 — As yet another effort to dodge the pricey boutique class fee, I use ClassPass, an app that lets you sign up for group fitness for a deal. This price is for the five-class option, but they also offer three and 10. This allows me to drop into any partnered studios and ends up costing $15 per class. Not too bad when you consider that so many of the expensive studios are on there! The only downsides are that openings can be at awkward times of the day (3 p.m. on a Monday, for example) or have limited spots for ClassPass users, so you have to act fast.
Week One Total: $101.13
Week Two:
$130.53 — At this rate, I've been Spinning so much that I decide to invest in my own pair of clip-in shoes. Each rental at Soul costs $3 and adds up quick (especially for shoes that are usually still sweaty from the last person who wore them), so I'm looking forward to having my own. My grandparents later reimburse me for these as a birthday gift.
$38.80 — Rumble Boxing is undoubtedly my favorite class in the city. It's an insanely sweaty mix of 10 rounds, split between individual bags and weighted, boot-camp-style floor exercises. I always leave high on endorphins and it's as therapeutic as it is result-producing. This price includes the class and glove rental.
Week Two Total: $169.33
Week Three:
$172.43 — Just like that, I've gone through another five-class pack at SoulCycle and decide to refresh it. It's $165 before tax, meaning each class ends up being $33 (a whopping $1 cheaper than an individual class).
Week Three Total: $172.43
Week Four:
$10 — ClassPass strikes again. Depending on what class package you have, there's a limit on the number of times you can visit the same studio per month. One of my favorite classes is Bode NYC's Hot HIIT, so I have to pay a small fee to visit two additional times.
Week Four Total: $10
Grand Total: $452.89 for 11 boutique classes, a pair of cycling shoes, and a monthly gym membership. Yikes! After I subtract the shoes and factor in POPSUGAR's (totally awesome) $50 employee wellness reimbursement, my actual total comes out to $272.36 out of pocket.
Well, folks, there you have it. You're probably looking at that number and judging me — and that's totally OK because I'm judging myself a bit, too. Of course you can stay active for significantly less — or even free — but do I regret it? Not one bit. Working up a good sweat and finding alone time (preferably in dark rooms with loud music) is one of my favorite things in the world. That being said, I'm still a 22-year-old who pays her own bills, so it's not quite the most sustainable habit. As a result, I've since dialed it back and shifted how (and where) I spend my money on working out. Group fitness keep me accountable, so I joined a gym that offers a range of classes I enjoy the most and which has awesome amenities to boot. I'll continue to pop into boutique studios when I feel like I need it or simply want to join a friend.
I absolutely love living in New York, but that doesn't mean it can't be mentally draining, lonely, and stressful all at once. Finding an outlet that makes you happy is more crucial than you might think. What I choose to spend on workouts is what others use to eat out, pay their bar tabs, or go to concerts. It's really just a matter of what's important to you. I certainly won't apologize for spending my money on what makes me feel good, and neither should you.
Image Source: POPSUGAR Photography / Carrie Carrollo