Celebrities in the Nautica Malibu Triathlon: Teri Hatcher, James Marsden, Kimberly Caldwell, Mark Feuerstein
Teri Hatcher and Julie Bowen Tri For a Good Cause
This weekend the stars came out in full force to take place in the Nautica Malibu Triathlon. The popular race is a favorite among celebs because of its close proximity to Hollywood, but more important, they participate to raise money for a good cause: the Childrens Hospital Los Angeles and its Pediatric Cancer Research Program. This year, TV host Nancy O'Dell emceed and former America Idol contestant Kimberly Caldwell lent her chops to sing the national anthem.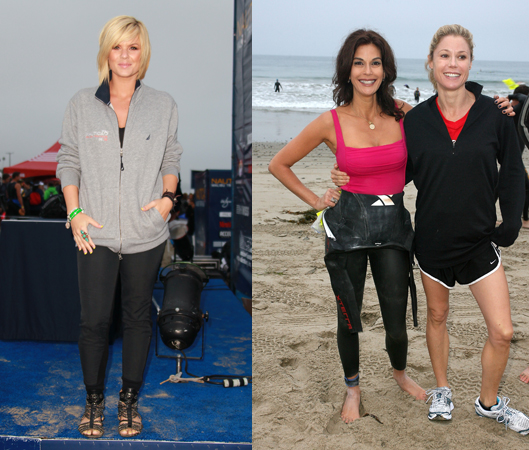 Actress Teri Hatcher competed in the tri for the second year in a row joined by fellow stars Rachel Griffiths, Josh Hopkins, Julie Bowen, and Mark Feuerstein. Gilles Marini, Trevor Donovan, and James Marsden also ran, bike, and swam in the 24th annual event. The triathlon consists of a half-mile swim, an 18-mile bike ride, and a four-mile run — yowza! It looks like Hollywood is brimming with the fit and fabulous!
For shots of all these competitors, keep on reading.