Bikini-Ready Tips From Kim Kardashian, Kendra Wilkinson, Kristin Cavallari in Life & Style
Find Out How Celebs Like Kristin Cavallari Get Bikini-Ready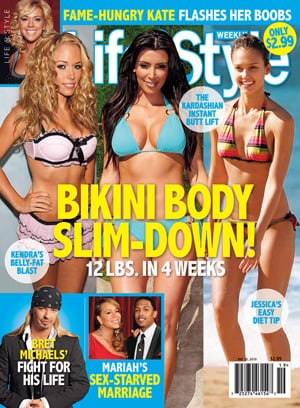 Bikini season is just around the corner, and the vast majority of you said that you're working extra hard to get in shape before Summer hits. You're not the only ones with beach on the brain: celebs like Kim Kardashian, Kendra Wilkinson, and Kristin Cavallari are also putting in extra effort to be bikini-ready. These ladies shared their secrets on how they're doing it as part of Life & Style's Bikini Body Slim Down issue.
Here's a preview of what you'll find in this special bikini-ready issue:
Take a cue from Kendra Wilkinson who says no to extreme dieting, but that doesn't mean she isn't working hard to banish her baby belly. "I'm phasing [junk food] out, little by little," she says. She's also shedding weight by "hiking, biking, just going outside and having fun."
Learn how reality stars Kristin and Kim deal with their trouble zones when you read more.
The Hills star Kristin Cavallari tells Life & Style she stays slim by eating all natural and hitting the gym. "I don't eat processed food, for the most part," Kristin tells Life & Style. "I try to eat all natural. I work out three to four times a week at the gym and do lots of sit-ups. My stomach is my trouble area."

Kim Kardashian, who recently dropped 5 pounds in just five days says she the extra weight she lost gave her the confidence she needed for bikini season. "I used to be shy and insecure walking around in a bikini," the size 2 star told Life & Style. "But now I just love feeling confident."
If you want a workout to help you get in shape before the season starts, check back with us tomorrow. Celeb trainer Jackie Warner shared a bikini-ready workout with Life & Style that we'll be sharing with you.