Why Amal Clooney's Vogue Cover Really Matters
Why Amal Clooney's Vogue Cover Really Matters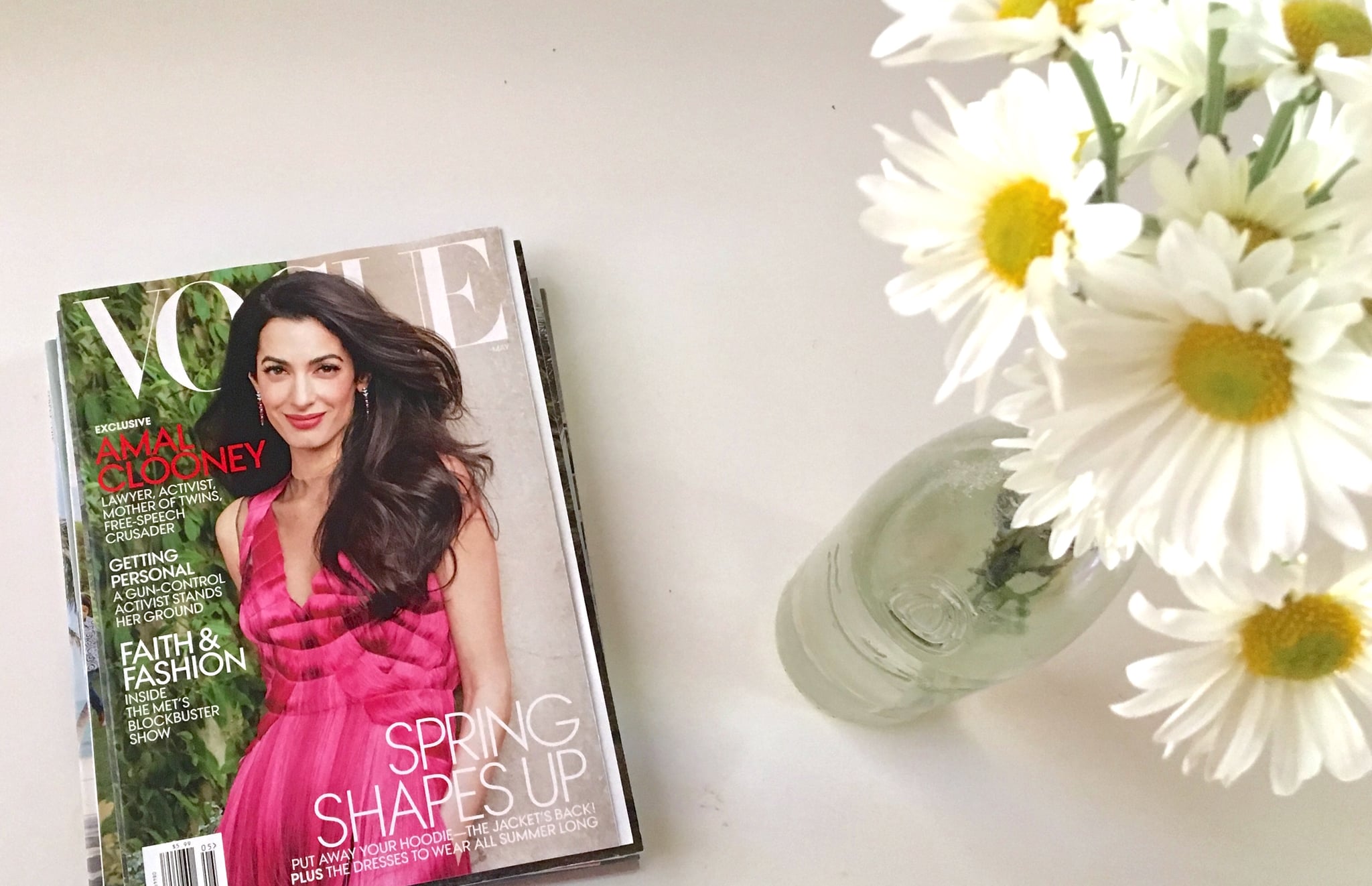 Vogue's May 2018 issue features Amal Clooney on the cover.
As a Lebanese-American woman, I find this worth noting for many reasons. First, a Lebanese woman is on the cover of a major global magazine, being profiled in a positive way as someone to look up to. Second, a woman other than an actress or a model is being highlighted, and thus a career route other than one in the movies or fashion is being celebrated — young girls pay attention to these things. Third, a different kind of beauty is being represented on a large scale.
I didn't truly understand how important the last was until I experienced the soft, subtle ways we react to our surroundings and behave based on what we are exposed to.
Two Springs ago, I wanted a change. I wanted to feel different, look different, be different. I didn't want to feel like a mess, like someone who's career wasn't going well, who was feeling alone, lost, and less physically beautiful than I wanted to be.
The world pressures us to be thin and well-dressed. I wanted to lose weight and get better clothes and have gleaming hair that I actually styled every day like so many of the "polished" women surrounding me in Santa Monica and Brentwood, CA, where I lived and worked at the time, home of Hollywood stars, executives, and the wealthy in general. (Can we pause for a moment to consider the word "polished" as it applies to women? Stylists and magazines will describe more "polished" looks we can go for . . . like we are shoes.)
"I was angry at myself for not leaning into my own unique Middle Eastern beauty and angry at the world around me for telling me that I needed highlights to be polished."
I wanted to look more "polished," and my hair was the easiest place to start. It would only take a few hours and relatively little effort. At the time, everyone in the office where I worked was a woman — a rare and wonderful thing, to be sure — and all of them had perfectly placed streaks in their hair that made them look so shiny and put-together, whether their base was naturally blond, light brown, dark brown, black, red, etc. All the pretty fashion bloggers (many of them based in California and New York) that I followed on Instagram shared this trait, as did most of the women on cable news channels I watched nightly, be it the journalists, pundits, or guest speakers.
That was the example I was seeing all around me: highlights made you look (perhaps feel) better.
I went to a salon on Abbot Kinney Boulevard in Venice to get my own perfectly placed streaks. That seemed to be what you did, especially when approaching 30 years of age. When I got to the office the next day, there was a stream of compliments directed at my new coloring.
Admittedly, I had a lot of fun playing around with getting balayage and partial and full highlights for a few months after that. This was the first time I had experimented with any of that on my long brown hair, which I usually just let fall loosely over my shoulders. Then Spring and Summer passed, and I went to spend the Winter holidays with family in Lebanon.
Back then, I edited an online website and worked in social media, and so I had explored the world of Instagram bloggers extensively. When I was in Beirut, I was curious about who the Beiruti bloggers were and what the online scene there was like. I did some research and found several popular blogs — mostly food and especially fashion and beauty. I followed a bunch, and then over the next few weeks, gradually unfollowed a bunch when I returned to California. But three stuck even when I was back in LA: nouraridaofficial, karenwazenb, and jessicakahawaty, all of whom were nearly exactly my age.
All three of them had long brown hair at the time. As I followed the really well-curated fashion blogs of these three Lebanese women — one based in Lebanon, one in Dubai, and one in Australia — I found myself mourning for my trademark brown hair. I was angry at myself for not leaning into my own unique Middle Eastern beauty and angry at the world around me for telling me that I needed highlights to be polished. Highlights which, I suddenly understood in something like a small epiphany, were made of bleach to make my hair more blond and take out its natural color. Because, as the magazines and TV shows and news anchors and movies show us, some well-placed highlights lighten and brighten up the whole face. And that results in a more beautiful effect. (More beautiful than what?)
A couple of months after following these three Lebanese fashion bloggers, I returned my hair to the color of my roots. When the dye was rinsed off and my hair dried, I looked into the mirror and was shocked to find just how much more like myself I felt. And more beautiful too. Not more than anyone else. Just more. I didn't need a change after all. What I needed was to embrace myself, just as I was, more.
Now you might be thinking it's totally on me. I was easily influenced and shouldn't have been. But it wasn't easy, actually. It was slow, over a decade in the making. You might also be thinking that magazines and magazine covers shouldn't have so much power over a person. We should each make up our own minds about what beauty means. But whether we like it or not, that isn't the case. What we see around us, validated daily as beautiful, has an impact over time.
This Vogue Amal Clooney cover is one great step toward celebrating all kinds of beauty, all kinds of careers, and all kinds of women, much like Michelle Obama's first Vogue cover in 2008. (Without in any way diminishing the important work of Michelle and Amal, who have inspired millions of women, it's worth pointing out here that there are a lot of women that still need to be celebrated and highlighted who aren't married to, or have the last name of, a famous man.)
The worrying thing is, you often don't realize the problem is that your unique kind of beauty isn't being represented — you often think that the problem is you.
While walking through a large — even for the stores' usual standards — Barnes & Noble in the Los Angeles area, I first spotted the Vogue cover featuring Amal Clooney from a distance and began to walk toward it immediately. That's my hair. Those are my eyebrows. That's what my eyelashes look like with light mascara on. That's how I apply dark eyeliner on my lid, like so many other Lebanese and Middle Eastern women. That's my type of beauty being celebrated prominently on a shelf in a crowded bookstore and likely on newsstands everywhere.
And that really makes a difference.