Social Media Campaign For Fashion Week Runway Diversity
Iman on Runway Diversity: "If You Don't Use Black Models, Then We Boycott"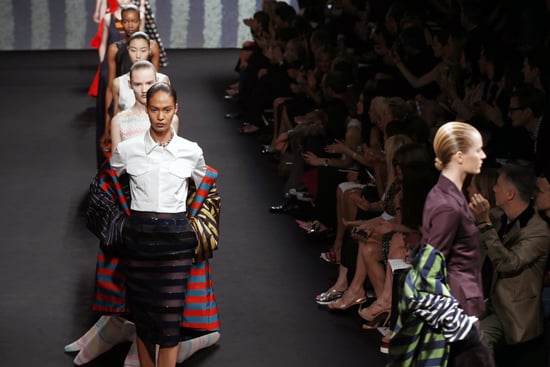 One industry legend is so tired of seeing almost exclusively white models on the runway that this season, she's planning to do something about it — and she's got no less a powerful ally in her corner than Iman.
Bethann Hardison, the former model, modeling agent, and activist, is organizing a social media campaign to bring attention to the lack of diversity on the catwalk that will launch during New York Fashion Week. She told The New York Times's Eric Wilson that she hopes her plan — while still not formalized — will make consumers aware that the designers whose clothes they buy frequently cast a small number of nonwhite models. "I wonder if that would make them have second thoughts about buying the shoes, the accessories, and the bags," Hardison said.
Iman took a harder stance on the issue, telling Wilson that the plan needs "a real hard line drawn like in the 1960s, by saying if you don't use black models, then we boycott. If you engage the social media, trust me, it will hurt them in their pockets. If you take it out there, they will feel the uproar."
Percentages of nonwhite models hired for runway shows have increased and decreased in recent years, but the focus on this issue in 2013 has produced some real results. Casting director James Scully was interviewed for a BuzzFeed article in March and said the cast of models in Dior's Fall 2013 show was "so pointedly white that it feels deliberate. I watch that show and it bothers me — I almost can't even concentrate on the clothes because of the cast." By the time the brand's Fall 2013 Couture show (seen above) came down the runway in July, the white models were joined by black and Asian women too.
Whether Hardison's campaign will produce similar results, or a lasting effect on runway casting, remains to be seen. But if the squeaky wheel gets the grease, we're glad to know she and other activists plan on squeaking.