Muslim Women and Modest Fashion
Modest Fashion Is Finally Trending, but We Were Ahead of the Game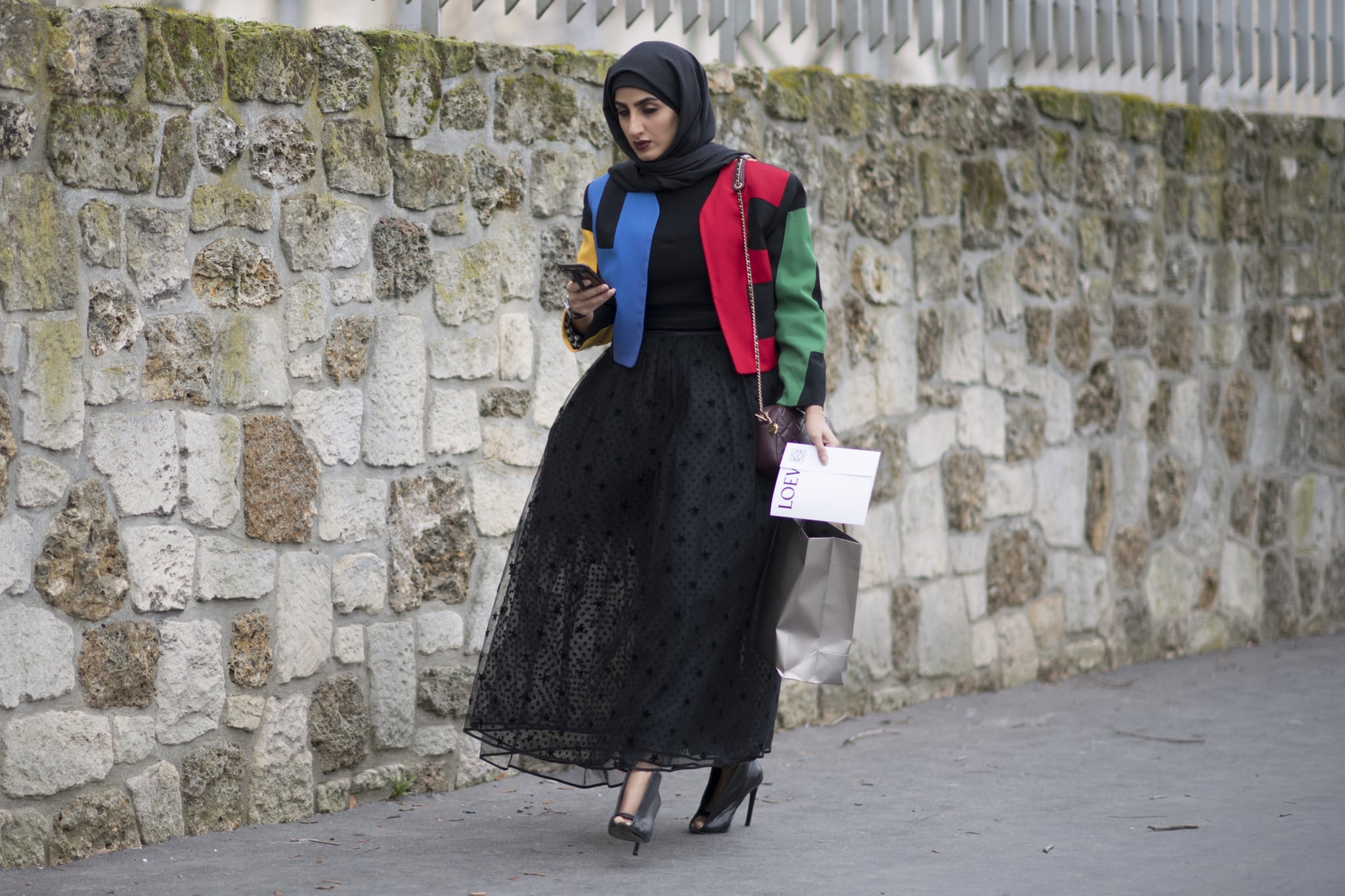 Image Source: Getty / Timur Emek
Growing up as a teenager in your typical American high school (à la Mean Girls) was no easy feat for many of us. Growing up as an American Muslim who covered? Phew. Whole other story.
In the clique-laden hallways filled with denim cutoffs and unbearably tight shirts was me, a short girl with a shirt dress and pants. I was one of about four hijabi girls in my high school of nearly 3,000. And boy did I feel out of place sometimes . . . and kinda frumpy. Like most high schoolers, I gave up trying to dress up after about the first week of school and stuck to sweat pants. I always had a desire to dress modestly, but with elegance.
I loved following red carpet events, and Victoria Beckham became my favorite designer for the cool cut of her outfits and the simplicity and sophistication they evoked. Unfortunately, I could never find what I wanted to wear in stores. It was nearly impossible to find loose and modest yet stylish clothing. And when I did, I basically became a regular outfit repeater. My friends would feel bad for me in my clothes and unable to understand the philosophy behind my dressing — as if I was deprived for not wearing a miniskirt.
Fast-forward to nearly a decade later, and modest fashion has taken over both high end and affordable brands. H&M used a hijabi model, Nike launched a workout hijab, and Dolce & Gabbana came out with abayas. Target and Forever21 are packed with long length shirtdresses, blouses, and cardigans that seemed like rare treasures back in high school. Not only is there variety in these types of modest clothes, but their price points are accessible as well.
As this year's New York Fashion Week came to a close and designers prepared to present their Spring 2018 collections for the upcoming fashion weeks in London, Paris, and Milan, Instagram was aflutter with plenty of Muslim women showcasing their outfits of the day. Some were even invited as fashion week guests.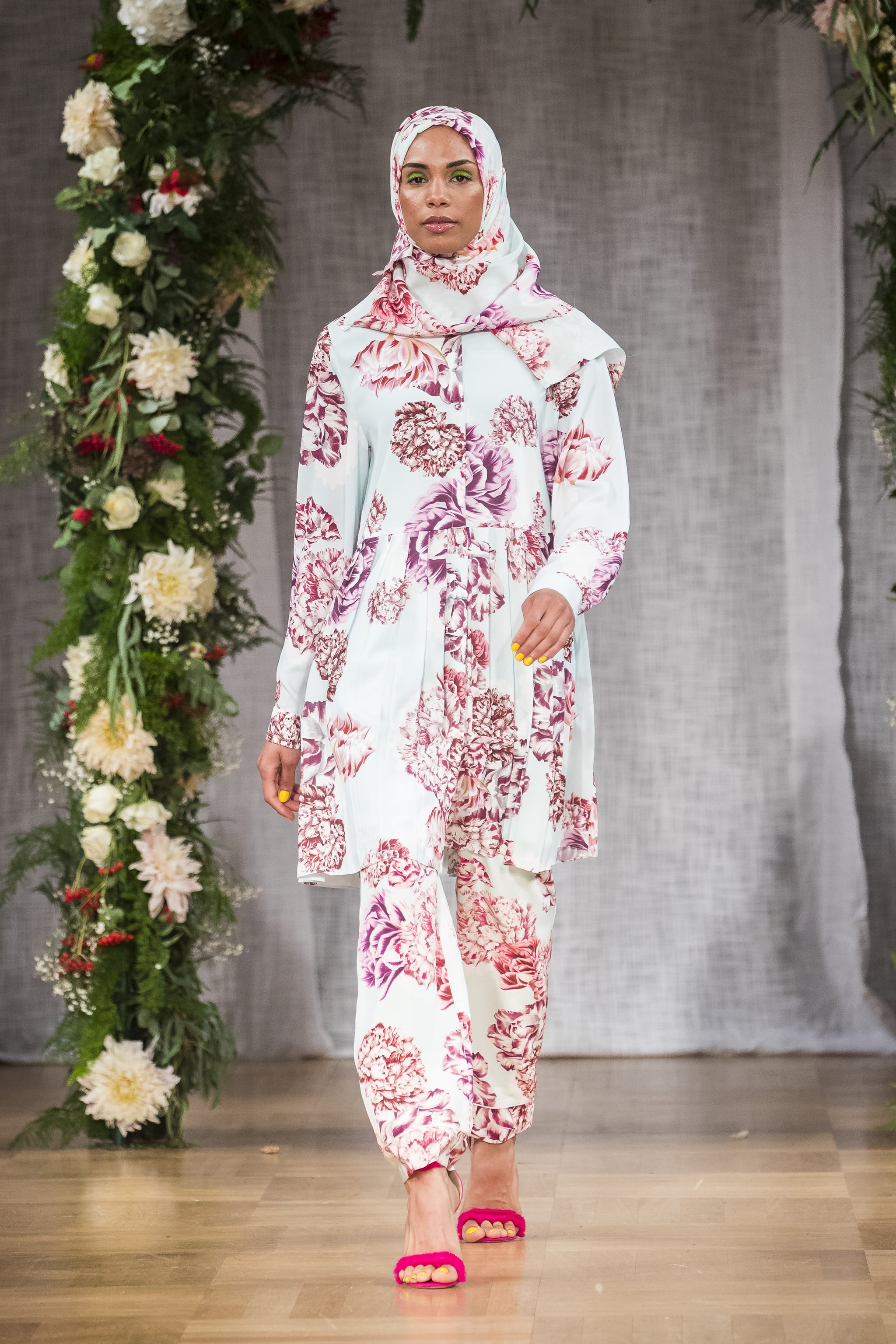 Image Source: Getty / MICHAEL CAMPANELLA
The Guardian recently came out with an article exploring how fashion has made us all dress more modestly, and runways are showing longer hemlines while tight fit clothes are a thing of the past. Remember last Fall when Indonesian designer Anniesa Hasibuan was the first to showcase her collection with hijabs on every single model at New York Fashion Week? It was simply stunning. Even as I scrolled through Marc Jacobs's presentation at this year's NYFW Spring collection, models like Kendall Jenner and Gigi Hadid were walking the ramp with turbans, headwraps, and loosely draped silhouettes.
"I still remember quite clearly being criticized by Muslim classmates in regard to how I dressed because I wasn't conforming to what society wanted me to wear."
But I get annoyed sometimes. Now that dressing modestly is fashionable, I feel like shouting out, "Hey, I told you so!" That same Guardian article explained how "where once the miniskirt was championed as a feminist statement because of its message of liberation, now a longer hemline is seen as the badge of a woman who does not feel the need to make her body shape central to her identity." They also quoted Victoria Beckham stating she preferred looser clothes because the shape "puts power back into the hands of the wearer rather than the observer."
Well, not to be rude but DUH!
Muslim women have been trying to prove this point forever. Yet, we were made fun of and viewed as backward. We were spoken for and told it was unnecessary, even by some Muslims themselves. I still remember quite clearly being criticized by Muslim classmates in regards to how I dressed because I wasn't conforming to what society wanted me to wear.
But now that it's fashionable to be inclusive in society, you care? Now the words we had been saying have been taken by fashion designers as their own as part of a new, chic, and revolutionary movement in fashion, an intellectual feminist awakening.
Look, let's get one thing straight. There is nothing new about dressing modestly. It's important to remember there are populations of women who've been doing it elegantly and fashionably for generations and not because they were forced to do it by some backward patriarchy, but because of the deep philosophy behind it. And here we were being called oppressed. I guess on the positive side, modest dressing is becoming so mainstream, it's no longer seen as oppressive. We influenced a shift in fashion.

Image Source: Getty / Matthew Sperzel
I get it. Money makes the world go round and everything has monetary value. However, I can't help but be a bit frustrated that the same people who used to feel sorry for me for being covered now find my style of dress empowering because it's in fashion. It's crucial to have inclusivity in fashion, whether it's clothing, hair, or makeup (hello Fenty Beauty!) But let's not appropriate the struggle or undermine the value and efforts of women who had been following the modesty philosophy on their own before it became mainstream.
Dressing for a bigger purpose is an Islamic principle that I and many other Muslims have followed our whole lives. For me, it's about having control over your own bodies and who we share them with. It's about fighting objectification and sexualization of our bodies and being judged based on our character rather than physical features. Dressing modestly lets me control how I define my beauty, while presenting myself to society on my own terms as an individual. It's a truly empowering way to express my beliefs in a not-so-subtle way without having to say a word.
I don't want to come off as arrogant or negative. I'm really happy that the Nikes and Dolces out there have paid attention. I'm excited Victoria Beckham sees the symbolism and the impact of what modest clothing can represent. And I guess the most empowering aspect for me is knowing that our power as consumers of modest fashion, whether we are Muslim or not, is finally being noticed and on our terms and having labels cater to us.
I know not everyone is thrilled about this trend (ahem, France) and want to insist on silencing the accessibility to modest clothing with ridiculous things like burkini bans. But even France will have to get over it.
Seeing Halima Aden get contracts left and right and hijabi YouTubers getting famous is really fascinating. I never thought I'd see people who dress like me in magazines and getting interviews for fashion. And it's like I've been a trendsetter in the fashion game a decade ahead, and I didn't even know it! And you know what? I think this is a turn for the better where we are not just fashion conscious but conscious about what our fashion represents.
All I'm trying to say is, we did it first, so welcome aboard.