Julianne Hough Safe Haven Interview
Julianne Hough Talks Fashion Risks, Closet Essentials, and Sneakers
Julianne Hough has majorly stepped up her style for the Safe Haven promo tour, and we've certainly taken notice. We had a chance to catch up with the on-the-rise starlet at the launch of her shoe line for Sole Society, and she dished on everything from her personal style to her go-to brands and her thoughts on the sneaker craze (spoiler alert: she's sold). Keep reading for Julianne's stylish reveals.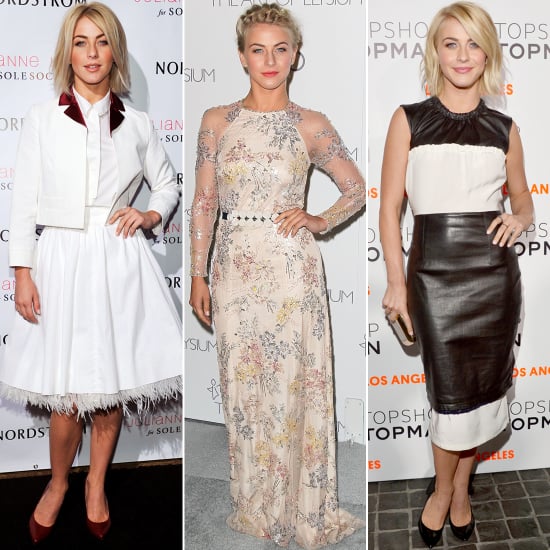 PopSugar: How would you describe your personal style?
Julianne Hough: Feminine with a little bit of an edge, especially with my haircut. I feel so much more sassy and free with it, and I feel like I can wear these fun high-collared shirts and kind of business-y things, but it's still feminine with boyish kind of clothes. I'm still kind of figuring out what I like, but what I love is that I like to try different things, and it might not work, but at least I tried it.
PS: What's your shoe personality?
JH: Fashion-forward and sassy, but a little bit classy, too. I like a classy statement heel that you can wear with jeans, wear with a dress during the day, and dress up at night, but that are also fun and colorful.
More from Julianne Hough when you click here.
PS: How do you feel about the sneaker trend?
JH: I kind of love it. I bought a pair recently that I love. I haven't been able to figure out how to wear them yet.
PS: Maybe with a pair of leather leggings?
JH: Yeah, I think something like that. Mine are tan and silver, so I have to find a good color to balance the shoe.
PS: Are you working with a stylist these days?
JH: Anita Patrickson. She is amazing. She really understands my style, and she pushes me to do things that are risky. For instance, at the Golden Globes, I wore this cuff around my ear that had a scarab beetle and a little praying mantis stick bug. Whereas if I would had worn that six months ago, no one would have gotten it, but because of the steps that we've taken, I feel like we've kind of gotten on a fast track. She's really been the one steering that ship.
PS: What are some of the essential pieces in your closet that you always reach for?
JH: Black leather pants, because that's for daytime or night. I love a good trench coat, and I love a pointy pump, like a good heel with a pointy toe is always really good.
PS: What are your go-to brands?
JH: I love A.L.C. tops. Those are just the greatest tops ever. Supersimple but perfect always. They always fit great. I like Genetic and Current/Elliott for jeans. Rag & Bone, I love; they have some really fun hats.