Fabsugar Interview With Model Cameron Russell
Model Cameron Russell Doesn't Pull Together Outfits, She Lets Them Collapse!
We have a few major model crushes here at Fab: Lara Stone, Daria Werbowy, Lindsey Wixson, Natasha Poly — and now add to that Eva Mendes look-alike Cameron Russell! Not only does she have major sex appeal, but even better, she's a brainiac, too. Cameron attended Columbia University, majored in economics and math, and also writes her own blog, Funny and Interesting. We recently caught up with the American beauty to discuss Fall trends, her personal style, cheap thrills, and upcoming philanthropic projects. Read it all below.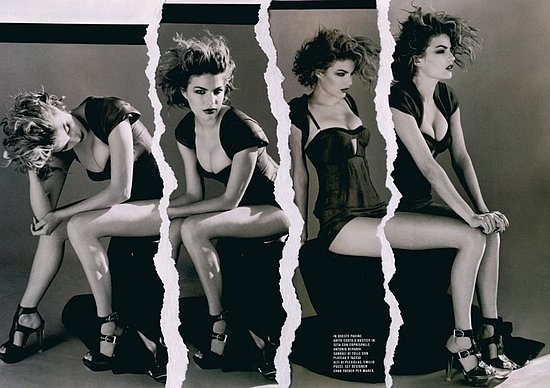 FabSugar: How do you approach dressing/styling day-to-day. Do you plan the night before, stick to a certain go-to style, or do you dress according to your moods?
Cameron Russell: I usually decide what to wear in the morning, but sometimes, I'll have a favorite coat or sweater or shoes, and I'll wear them everyday for a week!
FS: How do you deal with "I have nothing to wear" moments?
CR: Instead of trying to pull it together, I just let the whole outfit collapse. Usually this means I end up in these crazy MC hammer pants and black hoodie, or baggy men's jeans and an old t-shirt. Then, since I live in NYC, I pull on a giant coat and cover up the whole fashion disaster.
To hear more from Cameron, and to see some hot photos, read more
FS: What do you think of Fall's ladylike and military trend? Have you embraced them? Do tell!
CR: My style is definitely not ladylike — frills and bows kinda scare me — but I like the military look because I love that olive green khaki color.
FS: It's a common misconception that all models and celebs dress in strictly designer pieces, especially with chains like Forever 21 and H&M making such cool collections. Are there any places you shop that might surprise our readers?
CR: A couple of my favorite things came from used clothing stores, and H&M is great. My favorite jacket in the world is this black silk-lined baseball jacket with embroidery all over it from Vietnam. I found it in a vintage store in Tokyo. Unfortunately, it's getting really fragile with age, so now I'm afraid to wear it all the time.
FS: What are your top online shopping destinations, and why do you love them?
CR: Amazon because of my Kindle addiction, and their incredible used book collection (you can find anything!) Ebay, obviously. Etsy; I found some really cool vintage stuff and love seeing how creative all those people are.
FS: What are some styling tips or advice you can share with our readers?
CR: I like it when getting dressed is easy, so my advice is to buy things you really like and work with most of your clothes. Having a couple really great basics makes it easy to dress well every day. For me, this is a good miniskirt, one good pair of blue jeans, and one good pair of black skinnys, good boots, flats, and heels, and a few good coats (because I'm always cold!). I think it's cooler when girls have favorite pieces of clothing rather than an entirely new wardrobe every few months.
FS: Any upcoming projects you can get us excited about?
CR: Yes! After creating this ad for 350.org last October, I got really inspired to leverage new media and fashion to educate and promote civic engagement. Now I'm working on a big project hopefully launching right before Fashion Week. It won't just be about awareness and learning what's going on in our world, it will also introduce and facilitate opportunities for engagement in our communities.