Erin Heatherton Victoria's Secret Summer Interview
Erin Heatherton Breaks Down Her Airport Style, Reveals What's in Her Suitcase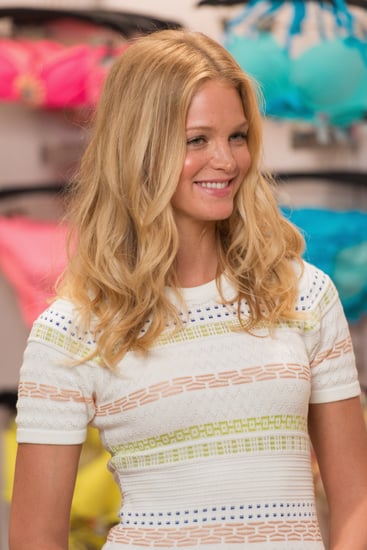 If you haven't been following the Victoria's Secret U.S. of Angels Summer Swim Tour, it's time we caught you up.
After the lovely Candice Swanepoel kicked things off with a visit to Seattle, we followed supermodel Erin Heatherton to her fan-picked destination: Milwaukee.
After her whirlwind trip — in which she visited fans at a local Victoria's Secret store, toured the city on the back of a motorcycle, and even stopped to pose with the Bronze Fonz, a local landmark and must-see attraction for any Happy Days fan — we asked Erin about her on-the-road style secrets, her must-have packing essentials, and what else she's been up to this Summer (hint: you can find out at the movie theater!).
POPSUGAR: You're a Midwesterner. What was it like to make a return visit to the region?
Erin Heatherton: I love to travel everywhere. I've lived in Europe, in London, and Paris, and some of my favorite cities are Rome and Paris. I love Morocco, too, but coming back here to the Midwest and being able to share this experience with some of my favorite people is awesome. So, Milwaukee is very high on the list!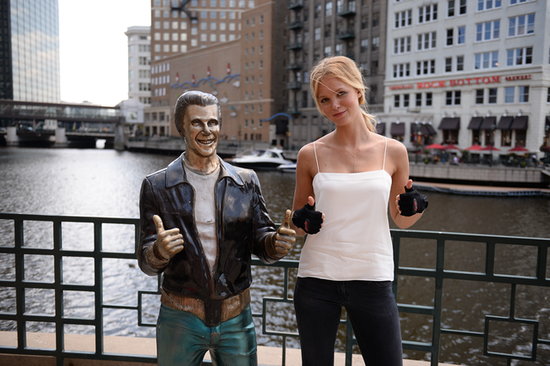 That's a lot of travel! What's your ideal airport outfit? Any styling tips you've picked up over the years?
EH: My favorite airport outfit is a tank top or a t-shirt and great-fitting jeans. I wear the same kind for every flight and maybe a pair of Newburys or motorcycle boots — ones with a zipper so that I can pull them off easily on the plane, and usually a scarf, so that I can sleep under it!
PS: And what are some packing tips you've gleaned? What would we find in your suitcase for this trip?
EH: I am a serial overpacker! I usually only use the first layer of what I pack, but I always like to carry just-in-case things. It's always good to pack a snack in your carry-on, too, so that you don't get hungry. And headphones are always an essential item! I keep a lot of "distracting" things on me to play with and keep me busy while I'm waiting for flights.
PS: You've had a busy Summer! Congrats on your first movie role in Grown Ups 2! Will we be seeing more of you on the big screen?
EH: Playing someone else doesn't come naturally to me, so I love taking acting classes and challenging myself to become this new person. Growing up, I was a big fan of improv comedy, so it would be a dream come true to work with amazing comedians. They seem to just enjoy everything that's going on!
PS: What else have you been up to this Summer? Any activities top your list?
EH: I love swimming, and I love being in the ocean! I can sometimes hang with beach volleyball, but I wouldn't pick me for your team. Paddleboarding is pretty cool, too. It's tough, but once you get the hang of it it's like riding a bike!
PS: You always look so relaxed yet put together. How do you pick your red carpet looks?
EH: Ha! Who lied to you? I think it's just years of doing runway shows and watching people put me together that I started learning to put myself together while still adding a touch of my personality along the way. And that's pretty much what you see!
PS: And because you wear so many on the job, what's your favorite bikini?
EH: I love bright neon colors. I love mixing and matching little string bikinis. The Victoria's Secret Beach Sexy Bikini Mixer assortment is great for that!