Dree Hemingway at the Hamptons Film Festival | October 2012
Dree Hemingway Is Quite Clearly the Girl With Style at This Premiere
At the Hamptons International Film Festival screening of The Girl, Dree Hemingway's look was a testament to why she's a girl with style we always want to steal. Outfitted in a mix of menswear staples and a girlier Miu Miu skirt, she perfected the early Fall uniform that's both classic and really, really cool. Here's how it's done: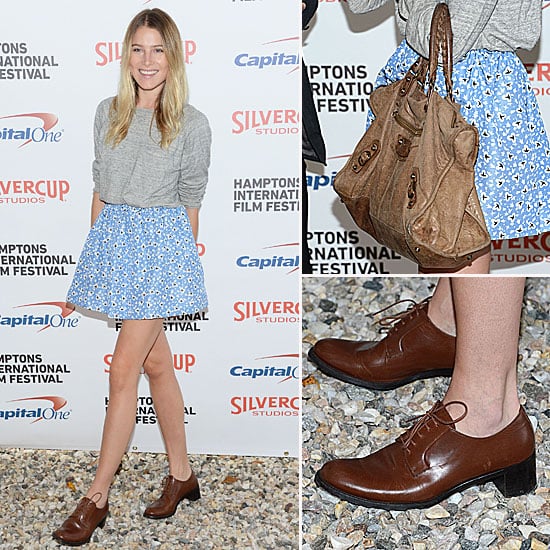 The trick to pulling off this mix is keeping it easy and balancing borrowed-from-the-boys essentials with feminine flair. Start with a crewneck knit and loafers or brogues, then look for a piece that feels just a little flirty on bottom.
The skirt is an essential part of pulling the whole thing together and crafting that boy-meets-girl balance. Trousers aren't going to lend the same girlie feel to offset your basics, but a skirt with more personality will. Look for a full miniskirt, like Dree's, with a sweet all-over print, whether it's florals or polka dots.
We love that Dree's look provides a great basic outfit formula that you can dress up or down. If you want to take the look to the next level, try a brocade, metallic, or sequined skirt against your knit top, then finish it off with tights for colder nights. You can also add another layer to further the menswear styling play with a fitted blazer, or pop on a leather jacket for an edgier contrast.