Jen Psaki Defends Pete Buttigieg's Paternity Leave
Watch White House Press Secretary Jen Psaki Defend Her Colleague's Right to Paternity Leave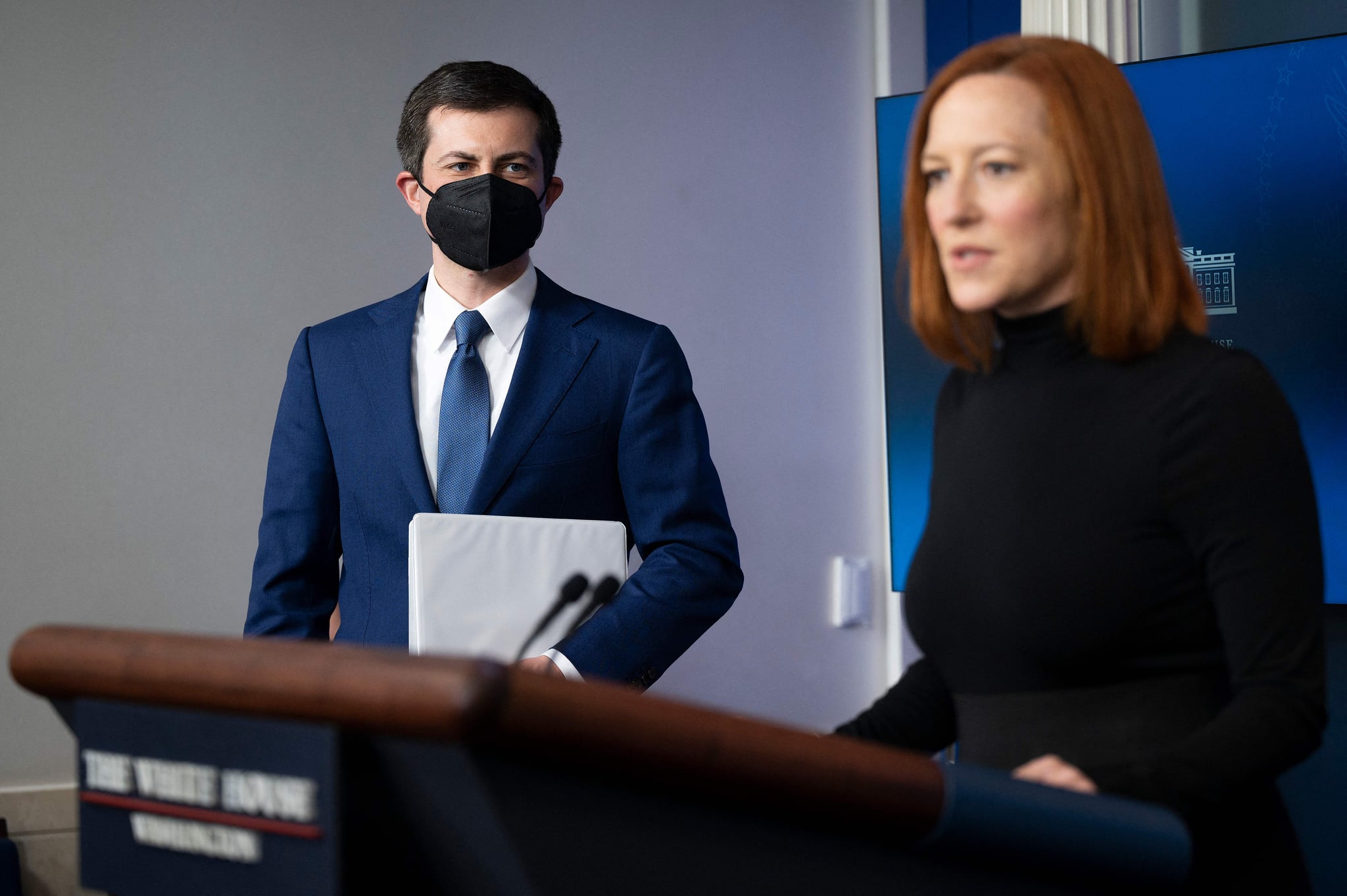 Image Source: Getty / JIM WATSON
Pete Buttigieg, the US transportation secretary, has another important job these days. Since August, he's been on paid paternity leave with his newborn twins.
This week, his decision to take protected time to care for Penelope Rose and Joseph August with husband Chasten has received some criticism. During a White House press briefing, Emerald Robinson, a correspondent for conservative site Newsmax, questioned Buttigieg's leave while the country faces supply-chain issues.
"Wouldn't it be wise for the secretary to get back on the bicycle, so to speak, and come back to work?" Robinson asked Press Secretary Jen Psaki.
Although Psaki responded that he was, in fact, at work as she was "on a conference call with him this morning," Robinson pushed. "He's in the department now? Every day?"
What followed was a staunch defense of the right of her colleague — and all Americans — to take parental leave.
Jen Psaki takes on questions over Pete Buttigieg's paternity leave, saying the administration won't apologize for something all parents should have pic.twitter.com/dbFMJdxAEB

— NowThis (@nowthisnews) October 20, 2021
"Listen Emerald, I think what you're getting at here is this question about whether men, parents, women should have paternity and maternity leave, and the answer is absolutely yes," Psaki responded. "We're not going to back away from that."
In fact, paid family leave is a Biden administration policy — one that the president aims to make law and implement for all US citizens as part of his Build Back Better agenda.
As Robinson pressed on, Psaki took the opportunity to share her own experience as a working mother and how she took maternity leave while working under the Obama administration.
"Just to be clear, we are quite confident in the capabilities, the talents of the civil servants, the leadership at the Department of Transportation just as we are at companies across the country where women and men take maternity and paternity leave," Psaki said. "I took 12 weeks of maternity leave when I was the White House communications director, and I'm grateful to former President Obama for that and for leadership at the time for that."
"I think what you're getting at here is this question about whether men, parents, women should have paternity and maternity leave, and the answer is absolutely yes."
According to the Department of Transportation, Buttigieg was "mostly offline" for the first four weeks of his children's arrival with the exception of "major agency decisions and matters that could not be delegated." Psaki further made it clear this type of leave should be available to everyone, regardless of position: "This is something men, women should have. They should have this time to bond with their children. I'm not going to apologize for that from here. And, certainly, we are able to get the job done for the American people in the interim."
For his part, Buttigieg — who spent a year trying to adopt — has spoken out against critics, namely Fox News host Tucker Carlson, who joked that he was on paternity leave to try "to figure out how to breastfeed" his babies.
"I'm not going to apologize to Tucker Carlson or anyone else for taking care of my premature newborn infant twins," he said. "The work that we are doing is joyful, fulfilling, wonderful work, it's important work."