Molly Ringwald's Getting the Pretty Back
Can Motherhood Take Your Pretty? Molly Ringwald Thinks So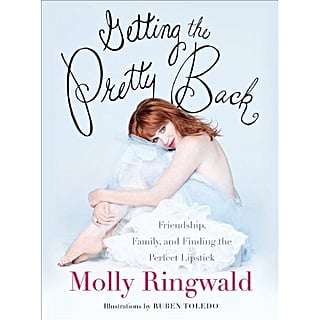 She was pretty in pink and the star of Sixteen Candles. Now at 42 and a mother of three, Molly Ringwald has managed to "get her pretty back." The brat pack it girl of the '80s has penned an uncomfortably candid book about "friendship, family and finding the perfect lipstick" called Getting the Pretty Back ($18). It hits bookstore shelves today. On motherhood, she writes:

In the months after I delivered Mathilda, I would catch glimpses of myself in the mirror, each time thinking the same thing: Is that me? I couldn't get over the heft of my body. I would breast-feed my daughter and look down in horror to find my breasts were larger than her head. My husband came home from work one day to discover me in the bedroom, dissolved in tears. "It's true! It's true..." "What's true?" he asked, alarmed. "She got it all. She sucked the pretty out of me..."
To see how Molly explains her fear, read more.
I'm sure I'm not the only woman who has felt this way, and obviously it isn't only motherhood that can give you that feeling...What makes it so disturbing when it is motherhood, however, is the completely irrational feeling that your loss is someone else's gain. Something that is so associated with something so wonderful. The giving of life. It's the ultimate bittersweet sensation.
The John Hughes movies that Ringwald is so famous for always have a happy ending. Though the actress divulges frank anecdotes in the text, this morning on Live With Regis and Kelly she said she's had a good life. Were you able to come to terms with the way your physical appearance changed with having children too?