Filling Breakfast Burritos Recipe
An All-Time Favorite Breakfast Burrito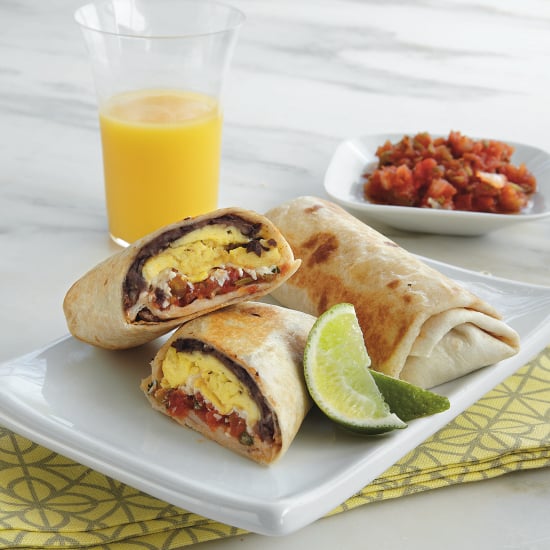 I love a big breakfast, and this breakfast burrito is my all-time favorite! With jazzed-up black beans, scrambled eggs, and Cotija cheese melting together in a warm tortilla, this all-in-one meal gets the whole family racing out of bed in the morning!
Keep reading for the tasty recipe!
Notes
This is my all-time favorite recipe for a family breakfast. The fiber in the beans keeps us all full, and the combination is out of this world. For a gluten-free burrito, use corn tortillas.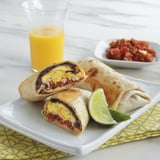 Ingredients
1 (15-ounce) can black beans, drained
2 teaspoons fresh lime juice
Cooking spray
6 large eggs, lightly beaten
8 (8-inch) flour tortillas
1 cup salsa
1⁄2 cup crumbled Cotija cheese
Directions
Place beans and lime juice in a small bowl; mash with the back of a spoon until almost smooth.
Heat a large skillet over medium-high heat. Coat pan with cooking spray. Add eggs to pan. Cook, without stirring, until mixture sets on bottom. Draw a spatula across bottom of pan to form curds. Continue cooking, stirring occasionally, until egg is thickened but still moist. Remove from pan immediately.
Heat skillet over medium heat. Coat pan with cooking spray. Add 1 tortilla to pan. Heat 20 seconds on each side or just until soft. Remove from pan, and keep warm. Repeat procedure with remaining tortillas.
Spoon 2 tablespoons bean mixture, 2 1⁄2 tablespoons egg, 2 tablespoons salsa, and 1 tablespoon cheese down center of each tortilla. Roll up. Recoat skillet with cooking spray. Repeat with remaining burritos, and cook over medium heat 4 minutes or until lightly browned, turning occasionally.
Serves 8
Amanda Haas is a cookbook author, cooking video host, and the founder of One Family One Meal, a website that helps families menu plan, grocery shop, and cook on a budget. Her cookbook, Real Family Food, features this and other delicious family-friendly recipes, as well as simple tips for bringing your family together around the table and a strategy for meal planning, budgeting, and shopping.
Information
Category

Eggs, Breakfast/Brunch

Cuisine

Mexican