Cover Clamp Prevents Partner From Stealing Bed Sheets
This "Cover Clamp" Is the BEST Invention For Anyone With a Blanket-Hogging Partner
As POPSUGAR editors, we independently select and write about stuff we love and think you'll like too. POPSUGAR has affiliate and advertising partnerships so we get revenue from sharing this content and from your purchase.
If you're sick of having your precious bed sheets stolen by your duvet-hogging wife, husband, girlfriend, boyfriend, BFF, dog, cat, or robot partner (who knows — it's 2018, y'all), then boy oh boy, do we have a life-changing treat for you. Enter the Cover Clamp, a glorious invention that helps you fight back against the blanket thief in your life (or, ya know, against yourself if you're the type who wakes up every morning with your sheets on the floor due to midsleep tossing and turning). This nifty gadget entered the sleep scene back in 2016 but has been making its rounds again lately, thanks to a viral Facebook video that highlights just how genius the product truly is.
The Cover Clamp is pretty darn simple to use. All you have to do is attach the clasp to your bed sheets and comforter (it has a two-inch opening to enclose both) and either place the attached grip pad under your mattress or secure the strap to your bed frame. The clamp itself holds up to 50 pounds of force and is made with rubber so it won't destroy even your most sacred of linens.
So far, the problem-solving product has gotten some pretty rave reviews. One thrilled customer who bought it for her husband for their anniversary noted, "Not only was it a very thoughtful gift, but incredibly effective as well. It was exactly what we never knew we needed!" Meanwhile, a hubby who once "slept in a sleeping bag during the Winter months" because of his wife's cover-hogging tendencies commented, "This thing really does work; it's really strong and holds better than I could hope for. I was worried that it would be a pain getting in and out of bed at night but the little buckle thing is easy to reach and buckle/unbuckle." We're sold!
Watch the promotional video about the Cover Clamp above, and snag your own below to finally put an end to the late-night injustices inflicted by the comforter snatcher in your life.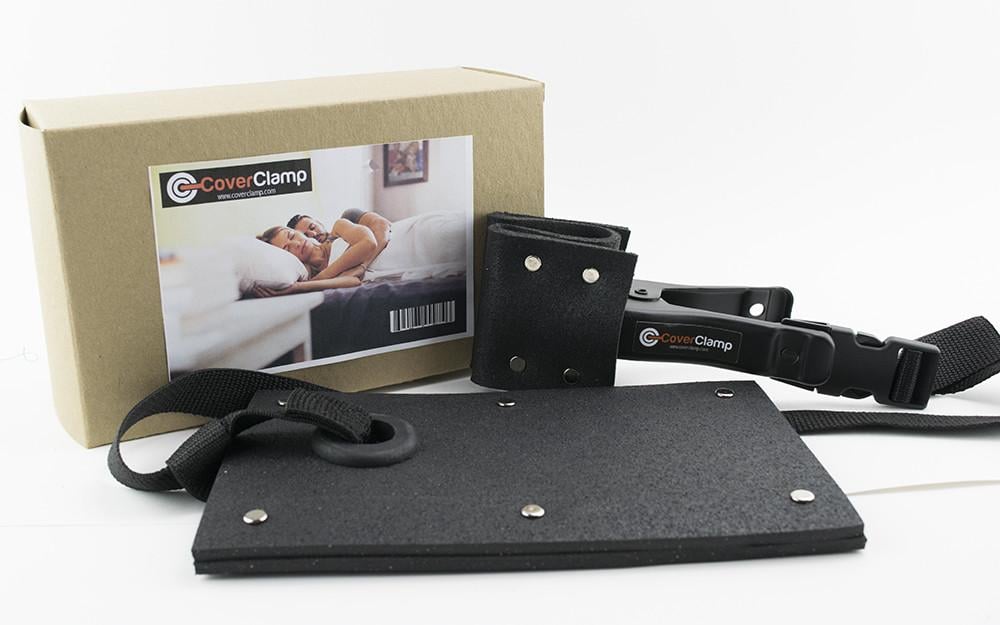 Cover Clamp ($25)