Alyssa Milano on Pregnancy Tea
Third Trimester Tea: Alyssa Milano's Brewing It, Should You?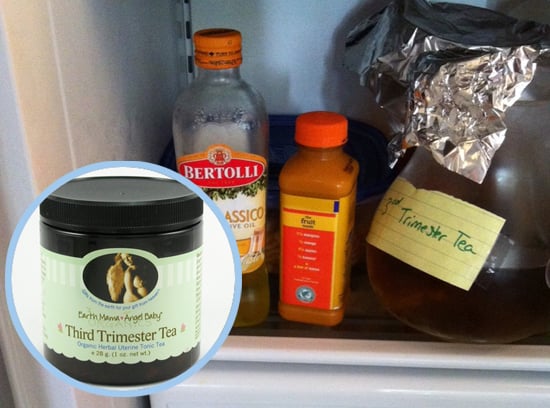 Old wives tales abound during pregnancy, but one in particular is causing some mamas-to-be to do a double-take. Yesterday Alyssa Milano tweeted a photo of the inside of her refrigerator with the caption, "Apparently, last night, in the mind of a very pregnant woman . . . milk in the kitchen cabinet and olive oil in the refrigerator made sense. Whatever. Don't judge me." While many mama's experience pregnancy brain, what caught the attention of her followers was a glass pitcher filled with something called "3rd Trimester Tea."
So what is 3rd Trimester Tea ($6)? A blend of herbs that are supposed to help prepare the mom-to-be's uterus, breasts, and body for labor. Among the ingredients in Earth Mama Angel Baby's organic version are:
Red raspberry leaf: an herb that strengthens and tones the uterus, it is believed to help prevent false labor.
Stinging nettle leaf: an iron-rich herb to provide strength.
Spearmint: used to help relax, spearmint can also relieve headaches and fatigue.
Chamomile flower: a digestive aid, chamomile is also thought to soothe cramping associated with Braxton Hicks contractions.
Rose hip: teas featuring rose hip have been used to strengthen the body's resistance to infection.
So is it right for you? That's between expectant moms and their doctors, but if the benefits are to be believed then it sounds like it couldn't hurt!
Source: Twitter User Alyssa_Milano