Who Plays Nomi on Grown-ish?
Yes, That's a Different Actress Playing Zoey's New BFF on Grown-ish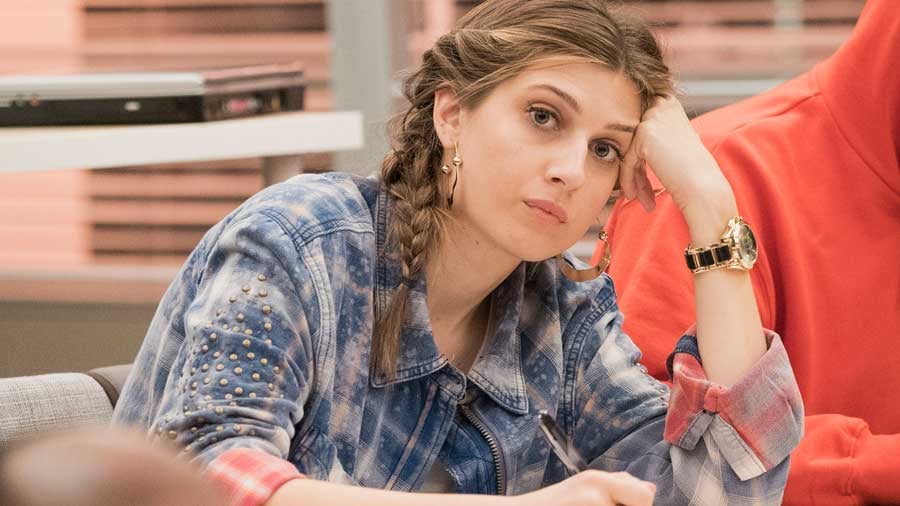 If you're a Black-ish fan, chances are you were super excited to tune in to the debut of its spinoff, Grown-ish, on Freeform on Jan. 3, as it sends Dre and Bow's eldest child, Zoey, off to college. But if you were left scratching your head about Zoey's new BFF, Nomi, don't worry — here's why she looked a little different than in the spinoff episode from season three.
When producers are planning a spinoff series, they'll oftentimes employ the use of a "backdoor pilot," which means they introduce the spinoff in an episode of the main show in the season prior to when the spinoff is going to launch. In Grown-ish's case, this was the episode titled "Liberal Arts," where a pre-frosh Zoey visits the California University campus and meets a few of the people who are going to be part of her spinoff world.
One of those people is Miriam, played in the backdoor pilot by Mallory Sparks. She's a white Jewish freshman who isn't great at picking up on social cues and is proud of the fact that she has had a few sexual experiences with black guys. She is established as Zoey's potential new best friend in the backdoor pilot, but is nowhere to be seen in the first two episodes of Grown-ish. Instead, Zoey meets Nomi, a white Jewish freshman who hasn't yet come out to her family as bisexual.
It's not that unusual for a show to recast a role or two between making the pilot and premiering the series, but this one maybe could have been explained a little better, though maybe the writers are banking on nobody remembering Miriam enough for it to make a difference. Either way, if you like Nomi, you should definitely check out actress Emily Arlook's other projects from before Grown-ish.
The 27-year-old Los Angeles native appeared in a couple rom-coms — Just Add Water and Valentine's Day — before landing a recurring role on Lisa Kudrow and Dan Bucatinsky's web comedy Sh*tty Boyfriends. From there, she went on to appear on MTV's comedy Mary + Jane, Amazon's drama Hand of God, and NBC's hit The Good Place.
But if Grown-ish takes off, it could be a breakout role for Arlook!