Who Plays Frank Griffin in Godless?
Godless: This Actor Is Almost Unrecognizable as the Villain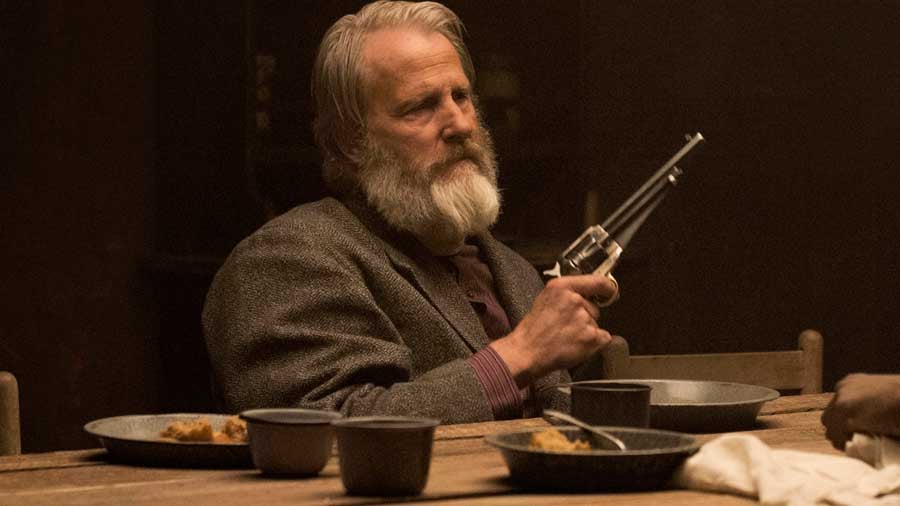 Netflix released a new miniseries on Nov. 22 titled Godless, a Western hearkening back to the days of classics like The Searchers, Bad Day at Black Rock, and Shane. Like any good Western, it has a terrifying bad guy at its center. In the case of Godless, that man is Frank Griffin, an outlaw laying waste to the countryside as he tracks down his son-like partner who left Griffin's gang when he could no longer abide their brutal behavior.
If Griffin looks familiar, that's because he definitely is — but Jeff Daniels is almost unrecognizable in the role.
First of all, Daniels doesn't often sport such wild hair choices. But in Godless, it is 1884 and outlaws definitely did not have time to be well-groomed, what with all that killing and robbing and stuff. The shaggy hair and bushy beard are historically on point. Also, he seems to have gained a little weight for the role — that, or it's the layers upon layers of clothing they have him in. Either way, it all adds to the persona and makes it hard to see the actor underneath the character.
And actually, the bushy beard was all Daniels. He told the Los Angeles Times, "[Creator Scott Frank] sent me a picture of Henry Fonda with some stubble. But it started to look strange so I just kept growing it. And I just showed up on set with that. And Scott said, 'Oh, yeah. Keep that.'"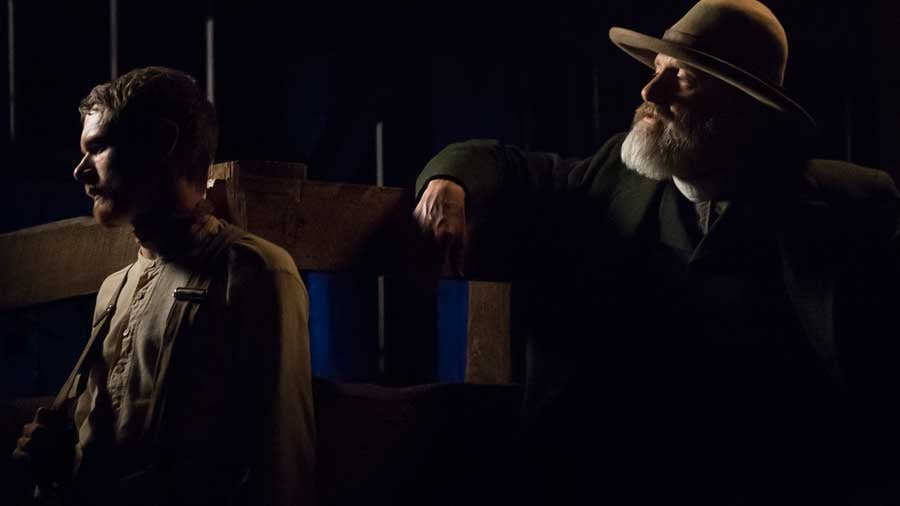 Recently, Daniels played anchor Will McAvoy on Aaron Sorkin's HBO drama The Newsroom (for which he won an Emmy in 2013) and appeared in the 2015 sci-fi film The Martian. But for some, Daniels's most iconic role will always and forever be that of Harry in the Dumb and Dumber movies.
Daniels is the quintessential supporting character actor, having played that role in dozens of movies, from Speed to Good Night, and Good Luck. He is also known for his theater work, having appeared in several Broadway and off-Broadway productions, including The Golden Age, Fifth of July, God of Carnage and Blackbird, for which he received a Tony nomination.
And most people don't know this, but Daniels is an accomplished singer/songwriter and guitarist. He has released six full-length albums and frequently tours around the country playing small gigs. I had the pleasure of seeing him at the small Chicago venue where I was a bartender a number of years ago, and he was not only very talented but also incredibly nice to everyone working there.