Steven Yeun Quotes About The Walking Dead in Vulture 2017
Even Steven Yeun Agrees That Glenn "Never Got His Fair Due" on The Walking Dead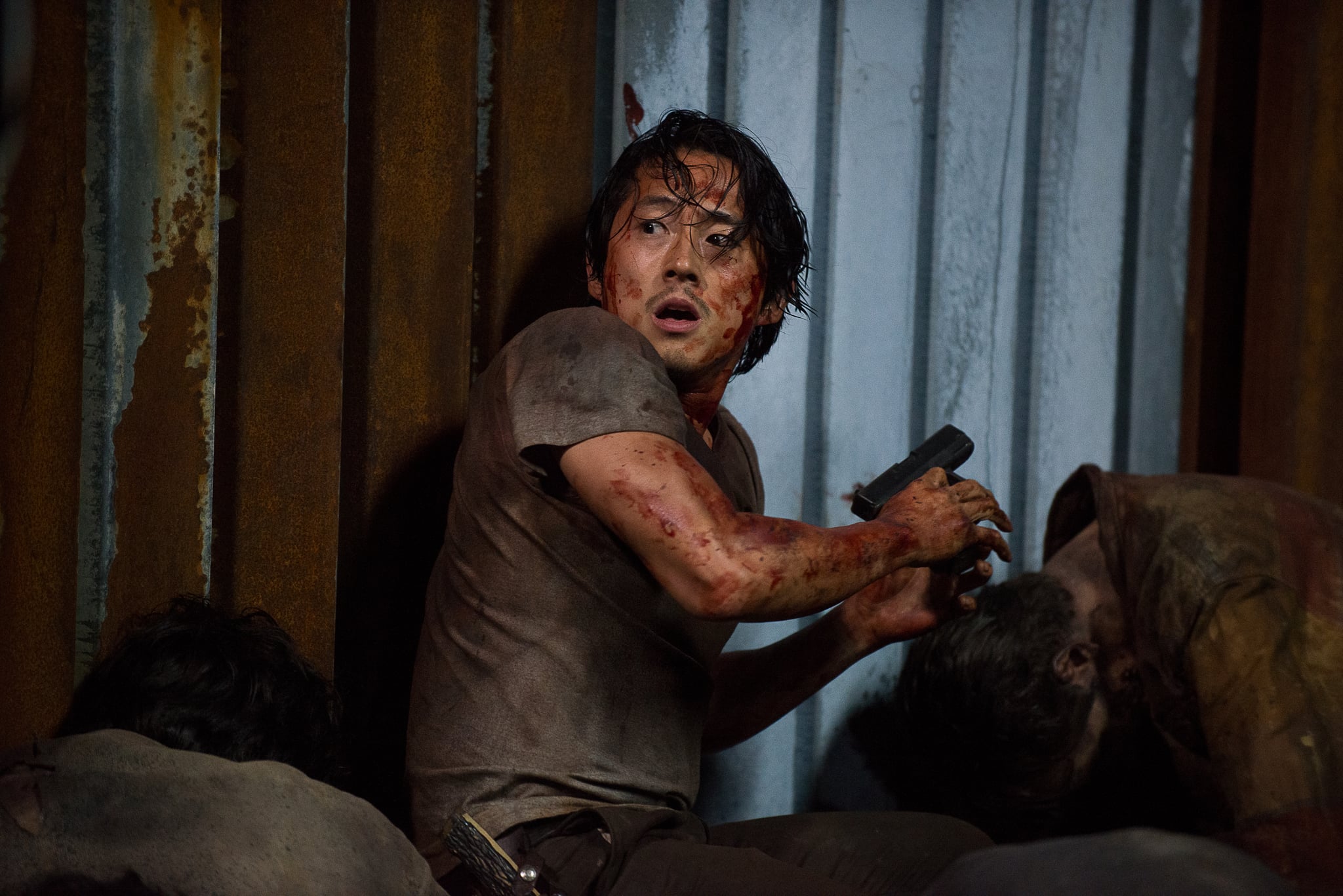 Although fans of The Walking Dead had been theorizing for months that Glenn Rhee (Steven Yeun) would be the one bashed to smithereens by Negan in the season seven premiere in October 2016, it didn't stop the show's writers (or AMC, for that matter) from getting an intense amount of backlash for the eventual death, which many saw as overly gory and gratuitous. Now, eight months on and with a starring role in Netflix's Okja under his belt, Yeun has had some time to really think about what Glenn's death meant for him, the fans, and the future of The Walking Dead. While sitting down with Vulture's E. Alex Jung, Yeun explained the mixed feelings he still has about the way his character was killed.
"I don't feel like it was too much," he said of Glenn's death. "I'll be honest with you and put a full disclaimer here: I might not be objective, but I truly feel like people didn't know what to do with Glenn. They liked him, they had no problems with him, and people enjoyed him. But they didn't acknowledge the connection people had with the character until he was gone. I look at what happened and I think, That wasn't any more gory than what we've done before, per se. No one got their face ripped in half! People got their guts smashed out and their heads caved in. But this one felt gratuitous because one, it kept going, and two, I think they took away someone that I didn't realize I had made such a connection with until they took him away."
Part of what led fans to criticize the show was also The Walking Dead's frustrating decision to drag out Glenn's fate, waiting to reveal who dies by Negan's hand (or bat, rather) in the season seven premiere instead of in the season six finale, as expected. The rest of the season crawled along at a painfully slow pace, and it's no secret that the drama's ratings aren't what they used to be. Still, Yeun noted that he cherished his "incredible" time on TWD, even if he had some issues with how his character was written. "[It] was tough sometimes because I never felt like he got his fair due. I never felt like he got it from an outward perception," he explained. "I don't say this as a knock on anything. He always had to be part of something else to legitimize himself. He was rarely alone. And when he was alone, it took several years to convince people to be on his own."
Yeun elaborated on the notion that Glenn and Yeun himself, for that matter, were seen as secondary to other actors on the show no matter how beloved the character grew to be over five seasons, citing Entertainment Weekly's choice not to give him a cover until he was axed from the show (while costars Andrew Lincoln, Danai Gurira, and Norman Reedus have all been featured in solo cover stories in the past).
"I didn't think of it as racism, where it's like, Oh, this is racist. I caught it in a way of Oh, this is how we're viewed all the time — as part of some glob, some amorphous, non-individualistic collective. We're like a Borg, and so because of that, they're like, 'Well, we don't need to give the shine to that character. There's all these other characters who are so cool!' I'd always hear people go, 'I love Glenn, he's my favorite character.' But the merchandise would go one way. That really might be the market, so I'm not going to sit here and be like, 'Why didn't they make Glenn merchandise?' But there was a disparity. They didn't know what Glenn was, and only in his death did they realize, 'Oh, that's what he was. That's the connection I had, and that's why it hurts me so much to see him die.'"
Glenn's spectacularly bloody end might have been controversial, but had the character lived, it might have been a fate literally worse than death. "I think the cruelest thing is that if Glenn had continued on, knowing how things usually shake out, I could totally foresee a situation where he just slowly, quietly disappears into the background and is kind of remembered but not really," Yeun added. "But in this way, it was like holding up a battered skull to the world to be like, 'Don't forget, this Asian person existed in this medium and now he's f*cking dead.' Like, he is f*cking dead. That's super cool! I'm cool with that."