St. Vincent Talking About New Album Masseduction Nov. 2017
How St. Vincent's New Album Captures a Planet — and a Person — in Crisis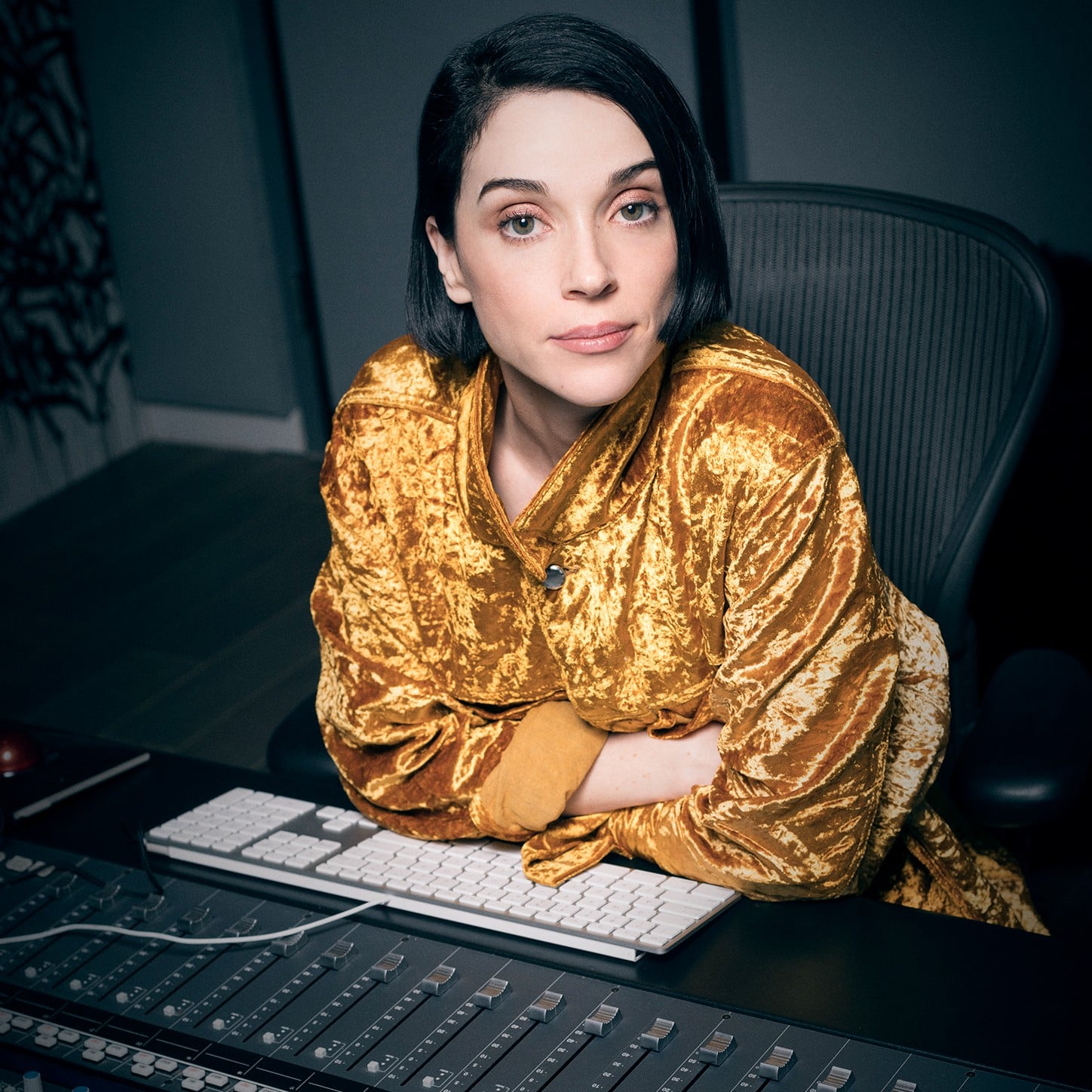 Image Source: W Hotels Worldwide
I'm seated with four other individuals in a room at the W Hotel. Before us, resplendent in an oversize gold jacket with matching gold boots, is Annie Clark, better known in the music world as St. Vincent. She's talking about her fifth studio album, Masseduction, as she plays a handful of tracks on a nearby laptop computer. "It's about sex and power and sadness," she says, swiveling in her chair.
Clark, 35, first entered the music world as St. Vincent a full decade ago. Marry Me dropped in 2007, establishing the artist as a sweet-singing siren with a wild and electric sound to back her up. When I first listened to St. Vincent, I introduced her to my friends as a "punk rock Disney princess." In my own mind, I envisioned her beguiling all the creatures in a mystical forest . . . before setting it on fire.
"Are you feeling a jam?" she asks the room. We've collected in an intimate hospitality room next to the W Hollywood's sound suite, which houses an actual professional recording studio in the hotel. St. Vincent has just finished a photo shoot in the mini studio; we're set to go on a small tour after she takes off. For now, we get to have a small listening party where she'll play a few select songs from Masseduction and answer our questions.
She decides to lead with "Los Ageless," one of the singles that was released in September. It's only appropriate; we're literally in the heart of Tinseltown. When someone points out how very aptly St. Vincent seems to be channeling Los Angeles for the event, she kicks up her boots. "They scream LA, right? They look completely appropriate for this space."
While the rhythm and melody of "Los Ageless" is both intoxicating and electrifying, the lyrics are noticeably sad. "How can anybody have you and lose you and not lose their minds, too?" she asks. As the song winds down, she mumbles, "I try to tell you I love you, but it comes out all sick." It's this balance of highs and lows that really helps Masseduction shine. As the walls vibrate, surrendering to the rumbles of the huge hotel speakers, St. Vincent listens, swiveling slightly in her chair.
This sort of nauseating euphoria has been present in St. Vincent's entire musical catalog. On her second album, 2009's Actor, you'll find a perfect example. "Black Rainbow" starts sweet, with a light meandering flute sound driving most of the rhythm. As the song continues, the ominous, deep bass takes over until the final 90 seconds, when an intense electrical guitar slowly plunges the song into certain insanity. It's dazzling shows of artistry like that which have really carved out a musical space for her career.
When pressed about the dynamic between sex, power, and sadness in her work, the indie-pop songstress is quick to elaborate on the different levels featured in the album. "Sex and power, they can equal many things. They can equal surrender or they can equal intimacy," she tells us. "What, again, the culture is looking at now is the dark side of that, which is sadness, tragedy . . . there's a whole lot to kind of unpack culturally. We're at a moment that probably we should've exactly been at a number of years ago. But I do think that we're disassembling and reassembling what power is and who wields it. I really do feel that way."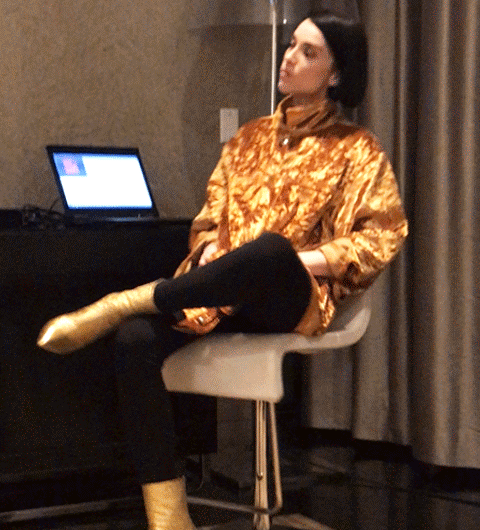 Image Source: POPSUGAR / Ryan Roschke
After "Los Ageless," I ask if we can listen to one of my favorite songs on the album. "Happy Birthday, Johnny" is a classic combination: it's heartbreaking and beautiful. It's so specific, but it casts a wide net of emotional understanding. It also features Johnny, a figure who's appeared on and off throughout St. Vincent's entire musical career.
On her debut album Marry Me, she spends the title track begging a man, John, to marry her. "I'll be so good to you," she insists. "You won't realize I'm gone." On her 2014 self-titled album, she calls him "Prince Johnny." On Masseduction, Johnny seems to be at his lowest point yet. But who is he? Is he an amalgam of all the heartbreaks in St. Vincent's life? Is he metaphor for something bigger?
"Those are the kinds of people who break your heart time and time again, but you love them more at the same time."
"I wish Johnny was a metaphor," she says, laughing. "No, the third of the Johnny trilogy . . . I think that some people are — like, tragedy is baked into them. But they also exist in this plane where they burn brighter than other people. So they also could burn out. And those are the kinds of people who break your heart time and time again, but you love them more at the same time. So that's about John again."
With her admissions about Johnny, St. Vincent has shown her hand, if only in part. While it's true that Masseduction captures the bleak outlook that seems to be a part of 2017's zeitgeist, there's still a deeply personal aspect that seems to stem directly from the artist.
Though you'd be hard-pressed to identify the "Johnny" in her life, some of the singer's more recent romances have been a bit more public. St. Vincent began dating Cara Delevingne in 2015; the two were together until splitting in September 2016. (I'd suggest that "New York," the first single from Masseduction, is about Delevingne.) Though St. Vincent reportedly, briefly dated Kristen Stewart in October 2016, her romantic exploits have mostly managed to slip under the radar. Maybe it's because she's now in "deep nun mode," which she explained to The Guardian during a recent interview.
Romantic endeavors aside, St. Vincent doesn't necessarily cop to the idea that her new album is about her personal heartbreaks and sadness. Well, at least not overtly. "It's not a diary, because it's art or pop music or whatever, but it's very first-person. It's very much speaking to my own experience," she admits. "Which, sometimes, is to feel powerful. Or, you find yourself wielding power in ways that aren't particularly graceful. And then some of it would be definitely like being powerless. Powerless in the face of love or sex or drugs or whatever it is, kind of dealing with those forces that can swallow you whole if you're not keeping it together."
After the sorrow surrounding Johnny, St. Vincent next plays "Pills," another upbeat track that's almost delirious in its frantic pace. "Pills" is especially pertinent to the twisted yin and yang of being powerful and powerless. The manic guitar hearkens back to her previous albums.
In retrospect, it's easy to see how each of the musician's albums begets the next. The insane parts of Actor certainly bleed into the conflicting bitterness and sweetness on 2012's Strange Mercy. I mean, St. Vincent literally portrays a Gulliver-sized statue that shatters to dust in her "Cheerleader" music video. On 2014's self-titled St. Vincent, there are unmistakable references to the kind of dystopian vibes and global sadness she explores in Masseduction. Just watch Digital Witness and tell me it's not a prologue for the "Los Ageless" video.
Once "Pills" ends, she opens up about where she was when she started writing the album. Her answer was entirely unexpected.
"The first song I wrote for it was 'Smoking Section,' which is the last song on the record, which is pretty bleak. I'm being really honest . . . It's one of those ones that my mom hears and asks me if I'm OK," she says with another laugh. "Yeah, it was on the Eastern Block, the former Soviet-occupied territory I was in. I was driving from the Czech Republic to Latvia and we had to skirt around Belarus . . . . long story short, it was a long bus ride."
While the song is admittedly dark, it's still her favorite song on the album. "I think that one . . . went through a lot of trying on different clothes to be recorded. I love that one."
With so much talk about the album's final song, it's only appropriate to end the event by playing it. Before she does, she returns to the previous notion about how the album is so personal and universal at the same time. "I have that emotional experience," she says, referring to the moments that inspired each song. "So it just seems like that's transposable. A friend of mine was telling me this great Kurt Vonnegut quote, the other day. 'Write just for one person, because if you write for the world, your idea will get pneumonia and die,' or something like that." She lets out another laugh. "You can look it up online, I just butchered it. But the idea, that if you can write truthfully about . . . your personal experience, that's going to be transposable to other people."
St. Vincent has been seated in front of us for the whole listening party, more or less. I think she got up to get a drink. But for this final song, the final song on the album — which seems to me like the very heart of the album, a track that synthesizes all of St. Vincent's pain — she opts not to stay. "I feel like I'll press play on this and then maybe I won't sit in front of you while you listen to it." She lets out one last laugh, starts the song, and leaves as the lyrics start. "Sometimes I sit in the smoking section . . . "