The New Normal TV Show TCA Panel
The New Normal Is Based on Ryan Murphy's Own Life
Glee and American Horror Story creator Ryan Murphy is bringing another TV series to the Fall lineup, but this time, the subject matter is hitting a lot closer to home. At the TCA panel for The New Normal, Murphy shared that the new show — about a gay couple who uses a surrogate to have a baby — is actually loosely based on his own life. Read on to get the details on that, as well as some fun tidbits from the stars of the show, including Justin Bartha and Andrew Rannells as the main couple, David and Bryan, and NeNe Leakes as Bryan's assistant.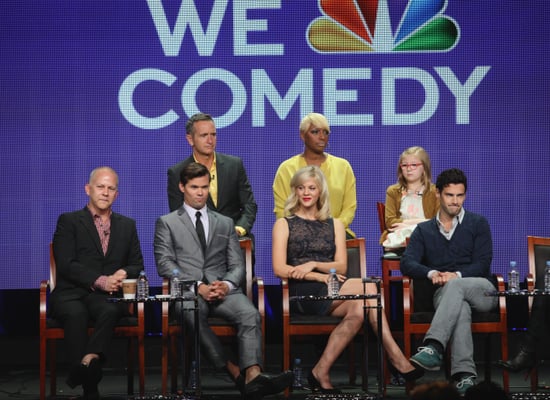 Murphy was very forthcoming about how his own life was the loose inspiration for the show. He said that he and his partner have been having conversations about kids and surrogacy, and it seems that of the two characters, Bryan (Rannells) is modeled after Murphy. Murphy praised Rannell's hair and paid him a compliment, saying, "If someone's loosely playing you, you want them to be much better looking than you."
The New Normal has already been the subject of controversy, with the organization One Million Moms calling for a boycott. Murphy said he wasn't surprised to hear about the issue but that he finds it "interesting when people take that position before they've seen it," and added, "I actually think if they watched it, they'd like it." Rannells, who's best known for his role on Girls and the Broadway play Book of Mormon, made a joke about the situation, saying he was honored to be mentioned "by first and last name!"
Justin Bartha said that he wanted to get involved with the show after reading about Rannells and Murphy doing a show together, at which point he had already seen the former in Book of Mormon. "I kind of initiated it," he said, speaking very highly of Murphy: "Ryan is brilliant . . . a modern-day Oscar Wilde." Bartha added that he likes that The New Normal deals with "love [and] real issues in a nontrite way that is also entertaining."
Murphy talked about casting Leakes, whom he first cast on Glee as Roz because he had seen her "take down Star Jones on Celebrity Apprentice." He reached out to her again for this show because he thinks she's hilarious, and, as if proving his point, when Leakes was asked about the subject matter of the show, Leakes exclaimed, "I live in Atlanta, GA, and it's a very popular city for gays. We love them!"
To see more pictures from the panel, just read more.