The New Normal Pilot Review
Pilot Scoop: The New Normal
Glee creator Ryan Murphy is expanding his television empire with another envelope-pushing series. Tonight, he's debuting a new half-hour comedy on NBC that's a bit more grown-up than the teen musical: The New Normal, about a gay couple trying to find a surrogate.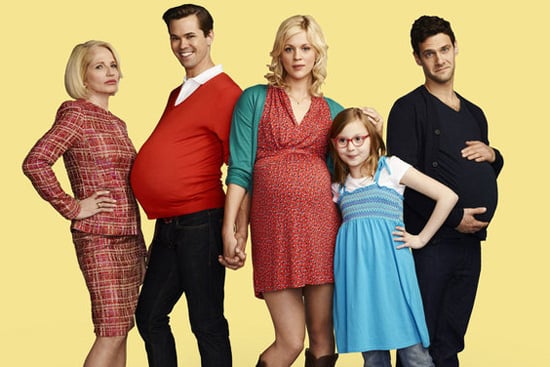 What it's about: Committed couple Bryan (Andrew Rannells) and David (Justin Bartha) want to add a tiny new member to their family. Though they would provide a loving and stable home, they're having trouble finding the right surrogate. Enter Goldie (Georgia King), a doe-eyed single mom whose cheating husband has left her looking for a major life change.
Where it works: The cast is solid; Ellen Barkin is the strongest link as Goldie's brazenly intolerant grandmother, and I was surprised by how well Bartha and Rannells (hot off his gig on Girls) mesh as the fathers-to-be. I was skeptical about the decision to have NeNe Leakes play Bryan's cheeky personal assistant, but I have to admit that I enjoyed her performance.
Where it doesn't: Goldie's naiveté is a bit unbelievable for someone who had a baby as a teenager. I'm not saying all teen moms have to be jaded, but her idealistic mentality gets grating.
When it's on: Tuesdays at 9:30 p.m. on NBC
You might like this show if: You've been waiting to see a more progressive comedy on network TV.
Check out a preview of The New Normal after the jump.