Movie Review of Happy Tears Starring Parker Posey, Demi Moore, Rip Torn, and Ellen Barkin
Happy Tears: A Strange Mix of Emotions
Familial relationships are often ripe for dramatic conflict and a few sniffles, and Happy Tears positions itself as such. Jayne (Parker Posey) and Laura (Demi Moore) are sisters who visit their father Joe (Rip Torn), a perverted yet somehow charming old man suffering from a serious case of dementia. Like many movie siblings, they're polar opposites: Jayne is the spoiled younger sister who lives in La La Land; Laura is more practically minded and down to earth.
Their bond (and sometimes hatred) often feels real (hey, they even look like sisters!) and could have made for a nice, simple drama on its own. Instead, the film gets lost in the midst of imagined sequences in Jayne's mind, making you wonder what kind of film Happy Tears really is. A sweet drama? A dark comedy? An art house film? As one of the dream scenes takes a naked Jayne flying on a giant jellyfish, I found myself wishing that the film had just stayed grounded.
For more on what I mean, read more.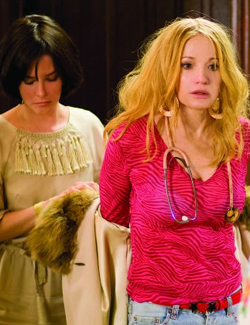 The story takes off as Jayne arrives at Joe's broken-down home, immediately calling him "daddy" with a smile, not even recognizing that he's sitting in the kitchen apparently unaware that he has no shirt on. Despite her grand illusions of the man he used to be, present-day Joe is incontinent and dying, and he's taken up with a crack whore (Ellen Barkin) who's perhaps even nuttier than he is. But even with the mounting evidence, Jayne continues to don her rose-colored glasses, opting instead to search for buried treasure in his backyard (a tale he used to tell the girls as kids) and losing herself in childhood memories. She has to come to grips with who her father is as a person and her own less-than-perfect life, and it's Laura who has to help her.
Demi Moore pulls off a hardened but strong woman while Posey, never one to stray from quirky roles, displays a nice undercurrent of self-doubt alongside her delirium. Barkin and Torn are equal parts hilarious and sad.
The actors have an easier time balancing a dual nature than the film does. As Jayne jumps around in her imagination, we too abruptly switch from reality to fiction. As a result, the tone of the film dabbles in tender, trippy, and darkly funny, but these elements compete rather than complement each other. As we near the finale, the film tries to salvage itself by coming back to earth on a sweet note, but such an ending, while nice, unfortunately can't compensate for its strangeness.
If you'd like to review a movie you've seen recently, check out the Movie Reviews Group in community. I may even feature your critique on the site!