Mistresses TV Show TCA Interview With Alyssa Milano
Mistresses: Why Alyssa Milano "Wasn't Feeling So Sexy" in the Pilot
ABC is adding soapy new drama Mistresses to its roster, which is an Americanized version of the BBC America show. It stars Alyssa Milano and Yunjin Kim as part of a quartet of female friends who each have scandalous love lives. (As the title implies, they're either cheating on someone or being cheated on.) Milano, Kim, their costars, and showrunners came to the TCA to talk about the new series and how it's more about friendship than illicit affairs.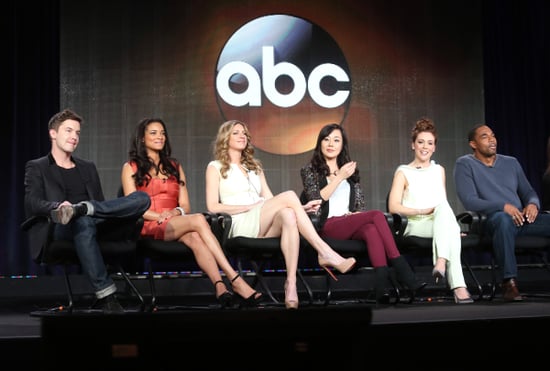 The cast was asked about how much skin they've had to show for the sexy series, and Milano reported that so far, she hasn't had to reveal much: "For my scenes, the guys were [more] naked, so it was a little easier for me." She added that when they were filming the pilot, she was still breastfeeding between takes, and gave a shoutout to her costars. "Bless these men who put up with it, because I wasn't feeling so sexy." Her cute costar Jason George (who you might know from Grey's Anatomy) chimed in: "You were looking sexy!"
Fans of Lost will recognize Yunjin Kim, who plays therapist Karen. Obviously, her old and new shows are light years apart, and Kim noted that it's "amazing" for her to work on a show about women and friends, because she can relate to and sympathize with the characters. Kim noted another obvious contrast: "wardrobe, makeup-wise . . . this show's more fun."
The show is based on the BBC America series, but it won't be a carbon copy. Executive producer K.J. Steinberg said the show deviates from the format, starting with giving it a faster pace. Steinberg says they "took what they had and front-loaded" it on the American version, but also "ran in a whole different direction." So has all the cast seen the original show? Kim said she marathoned the first season after she was cast, but stars Jes Macallan and George deliberately didn't watch it to avoid having preconceived notions of their characters.
So how far will the show push the steamy angle? Steinberg acknowledged that "at first blush, it sounds salacious, but if you scratch the surface, it's so much more." The show is more about the friendship of the women: "The sisterhood is really at the core of it all," Macallan said. Milano added that it's important because the characters make some poor decisions with their love lives, and the women need each other: "If [friends] can't be the most honest with you, who can?"