Matt Lanter Interview About Timeless December 2016
Matt Lanter Thinks Wyatt and Lucy Shippers "Are Going to Go Nuts" Over the Next Timeless Episode
If you're tuning into Timeless, then you're probably already obsessed with its star, Matt Lanter. Aside from playing the dreamy Wyatt Logan, fans can't get enough of his character's relationship with Lucy Preston (Abigail Spencer). What can we say? The sexual tension between the two is pretty undeniable. POPSUGAR recently had a chance to sit down with the actor, and he told us all about the upcoming midseason finale, who he would love to play his dad on the series, and the fate of Wyatt and Lucy's star-crossed romance.
POPSUGAR: So, I know a lot of fans, particularly Lucy and Wyatt shippers, are excited about "Last Ride of Bonnie & Clyde." How will their relationship evolve in this episode?
Matt Lanter: Without giving too much away, Lucy finds out a little bit more about Wyatt. There is a moment where you learn more about his past. So, in some regards, him opening up on a deeper level helps them form a stronger bond. They are put in a very dangerous situation and things happen because of that. You'll definitely see them form a closer bond emotionally and physically. I have a feeling fans are going to go nuts for this, but it definitely opens a large door for something more down the road.
PS: Is the chemistry between Lucy and Wyatt something you noticed early on?
ML: First of all, it always feels different for the actors. We're here for 12 hours doing a scene for four to five hours at a time, and a lot of that is a small thing with a bit of sexual tension or it's a full-on makeout scene. It never feels like it looks. I sort of approach the relationship slightly mirroring Han Solo and Princess Leia. That trope was a little more abrasive and abrupt, but there's a little bit of that teasing in a way. I don't think the chemistry was something I noticed in a particular episode, it was really more how they set up the writing and how these characters are really right for each other — or really wrong for each other — that makes it fun to watch.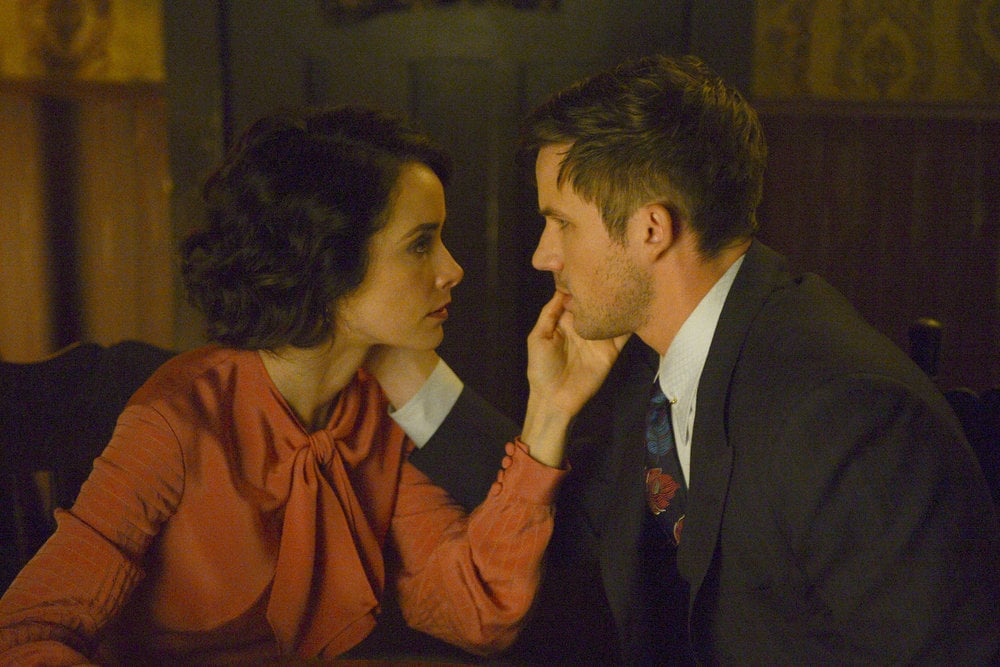 PS: How do you think a new relationship with Lucy would complicate his quest to get his wife back?
ML: It would drastically change how he operates. I mean, we already see it. We already see that he does certain things because he cares for her. Whether that's a romantic level or he cares for her as a teammate, it does change how he operates. In the last two episodes, there is something big that happens and there is a separation between the two and he drastically changes how he's operating to make sure everything is safe and sound. If he were to actually get into a real relationship and really admit to himself that he loves her or wants to be with her, I can't even imagine how it would change the dynamic.
PS: Will Wyatt get more of a backstory in these next few episodes?
ML: Yeah, we're going to learn more about Wyatt in "[Last Ride of] Bonnie & Clyde." Because we spend the majority of our time in the past on missions, learning these little traits about their history does come slowly, but in a way, I sort of appreciate that. If there's a Wyatt and Lucy romance happening, it's sort of a slow burn. It's not just "here's a guy, here's a girl, let's have them date right away." It's something our fans can appreciate and it's well-developed over time.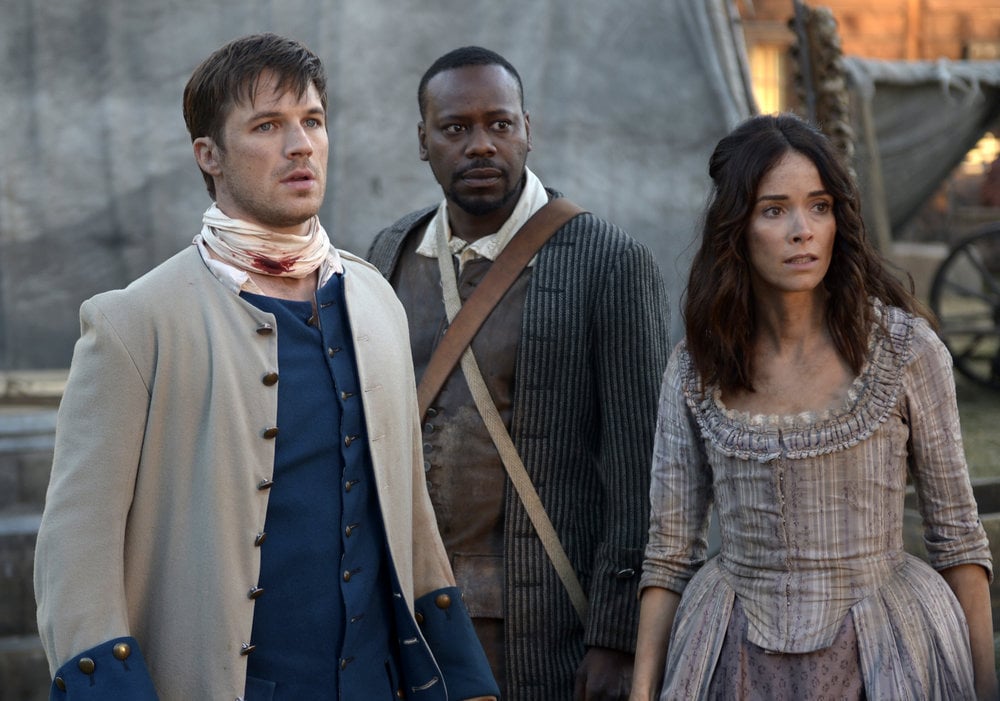 PS: What do you think is Wyatt's most admirable quality?
ML: He's willing to sacrifice and do whatever to A) do the right thing and B) protect the people he cares about. We saw in the Alamo episode, he was willing to give up his life in order to fight side by side with these men. We also see that Rufus and Lucy have been holding secrets and Wyatt is one of the only ones who hasn't had that lie. It sort of makes him a pillar of truth. He's also unapologetic in a way that I think people like as well. He's not the kind of guy who's going to bite his tongue.
PS: You have a lot of celebs watching the show like Leslie Jones and Mark Hamill. Who would you love to make a cameo?
ML: Well, I know Mark because I did Star Wars: The Clone Wars with him and he was a voice on Ultimate Spider-Man with me, so I worked with him a good bit, but it would be awesome if he came in and played my dad on the show. That would be a full circle, mind-blowing thing for a lot of sci-fi fans. I would also love to have William Shatner on too. He was a big fan of Star-Crossed when I was doing that. He's just genuinely a big fan of sci-fi. For someone like that to come on, it would have to be done very, very carefully and very patiently. Someone who is that recognizable in the sci-fi world, you would have to do it in a way that makes sense.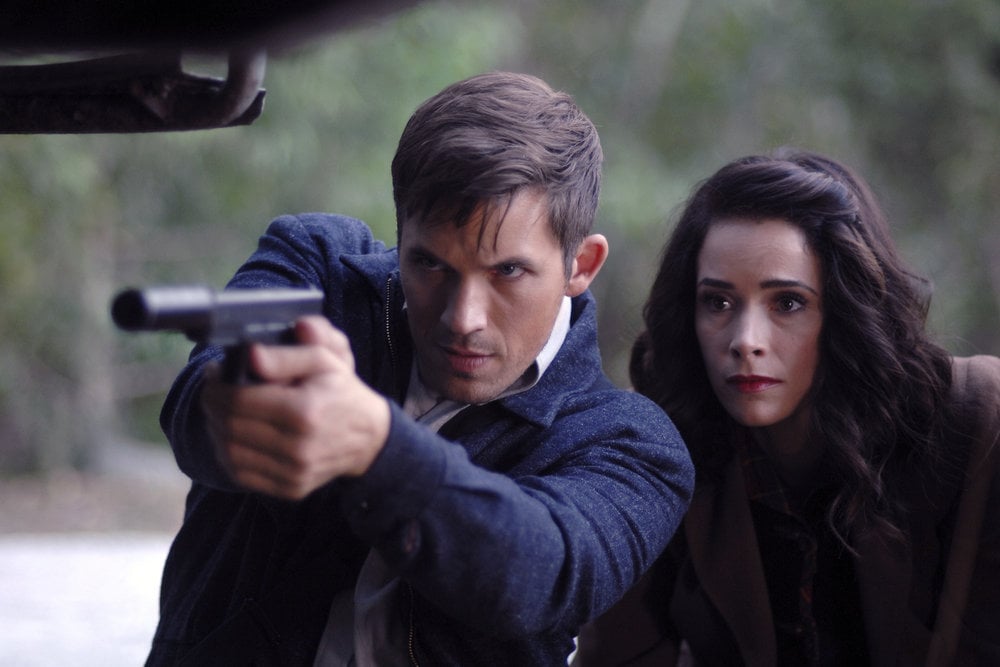 PS: Which episode would you say was the most fun to shoot?
ML: We really did have a lot of fun doing the World War II episode. We had been working really, really hard on our episode two and three — that's what happens when you're starting a new TV show. You do your pilot and you come back and try to make the series look, work, and feel like the pilot, so we were working a ton, and episode four came along and it was just a great script and we had a great director, Billy Gierhart. We all just really loved the banter in the script and we loved the time period. Lucy and Wyatt had a great moment together in that room. That's kind of where you first saw them have a little connection.
PS: Is there anything you can tell us about the midseason finale?
ML: We flip the tables in "[The Capture of] Benedict Arnold." The role that Flynn plays and the role that the time team plays . . . merge. We're kind of relying on both sides. It's a weird thing. Up is down and down is up. It's not us chasing Flynn anymore, we're kind of on this unified mission and it's interesting how it all plays out.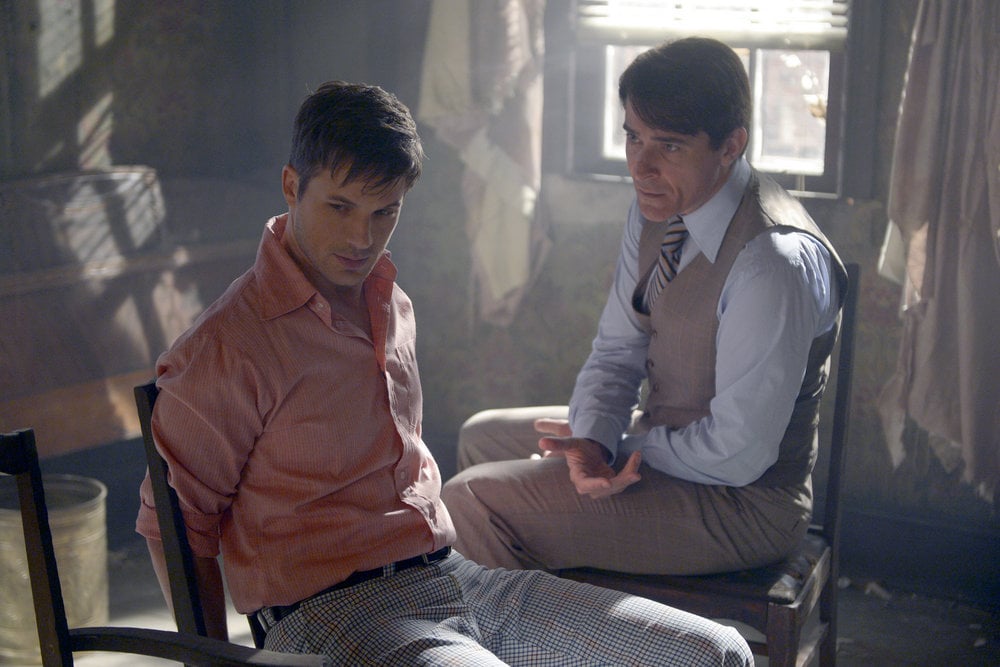 PS: We kind of saw that in the Watergate episode ("The Watergate Tape") when Flynn told Wyatt his backstory. It kind of makes you take a step back and think, "Well, why aren't they on the same team?"
ML: Yeah, I also thought that was extremely interesting. Flynn really appealed to Wyatt on a different level in that episode. Although Wyatt was kind of sassing back to him and saying, "You're crazy," in the end, some of that stuff crept into his head. He didn't have a choice but to listen to him and second guess whether or not Flynn is really a bad guy or not. That's kind of there in the back of his head, and in this Benedict Arnold episode, we see reasons why maybe Wyatt needs Flynn and vice versa. The audience is left to feel what they want to feel, but things might be changing as far as the relationships between the team and Flynn go.
PS: As one final question — I know there is a lot of debate about this — but do you think Wyatt and Lucy's ship name should be Wucy or Lyatt?
ML: Well, when I first heard Wucy, I was very much against it, but then our creator, Eric Kripke, said Wucy. And then, they released an NBC voting app, and I guess Lyatt won. So now I'm just all torn up. I don't know what to do. Abigail likes Wucy, I think. The creator tweeted about Wucy. I feel like I gotta go with Wucy now.