Maria Bello Talks About Her Prime Suspect Role
Maria Bello on Why She Couldn't Refuse Her New Series, Prime Suspect
Maria Bello will return to TV this Fall in NBC's new cop procedural Prime Suspect. Based on the British series starring Helen Mirren, Bello plays Jane Timony, a tough-as-nails homicide detective who loves her job and refuses to apologize for it (or her personality). Bello was joined at the TCA with her costars and producers to talk about how the series will differ from the original, and why it was a role she couldn't refuse.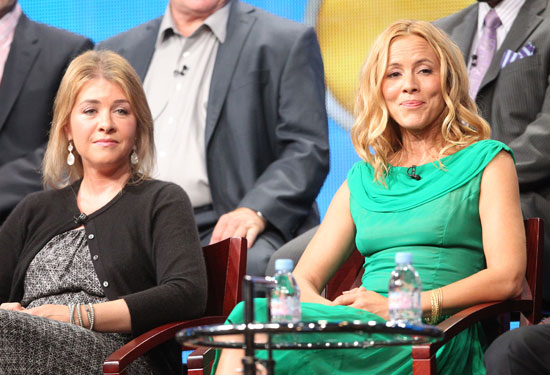 The pilot largely revolves around Jane taking a lot of flack from her male colleagues — to the point where one of her fellow detectives calls her a wh*re. Executive Producer Alexandra Cunningham said this kind of in-your-face sexism won't be par for the course, as "it's 2011; there's no institutionalized sexism," and from here on in we can expect the focus to shift away from that.
Costar Peter Garety commented that one aspect that makes Prime Suspect stand out among other cop shows was the fact that it's centered on a woman, saying, "Most of the cop shows I've done didn't have female detectives. I don't expect this cop show to be like any other cop show I've been on."
As for what separates the show from the UK version, Cunningham said that there will be a lot more humor and it won't harp on alcoholism the way the original did. She also added, "At the end of the day, what we have that no one else has is Maria, and she's so watchable."
To find out what made Bello take on the role, and what Helen Mirren thinks, just read more.
As for Bello herself, she admitted that she initially wasn't interested in returning to the small screen, mostly because of the demanding schedule. She changed her mind upon meeting the showrunners and seeing how "collaborative" and "creative" the environment was. Exec producer Peter Berg explained why they courted Bello so hard, saying, "Without Maria, we weren't really interested in doing it."
Even Helen Mirren has given Bello her stamp of approval: apparently when asked about the new series, she said that Maria was the best possible choice for the role.
When asked what she loved about the show, Bello said, "It's not earnest, and nothing about her [Jane] is earnest." She added that getting to play a homicide detective reminds her of her childhood: "I was always out playing cops and robbers, and now I get to go to work every day and get to play cops and robbers, so that's fun."